Cosmetic Changes
SPECIAL SECTION: Healthcare - L.A. businesses rely on science to feed the need for the cutting-edge beauty products.
Monday, November 1, 2010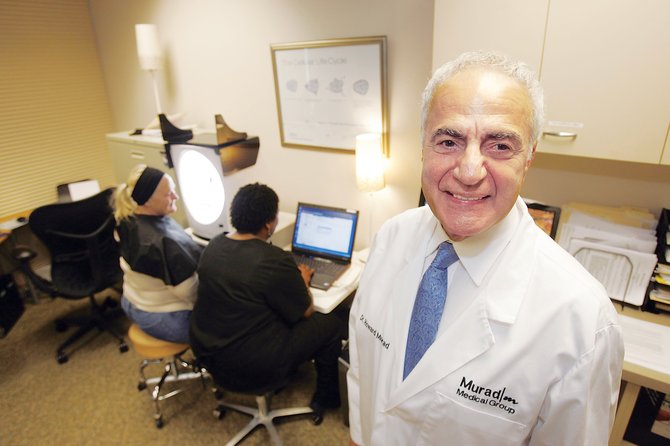 Los Angeles is known the world over as the home to movie stars and beautiful people, with faces and figures perfected by cosmetic procedures.
Sure, there are probably more plastic surgeons per square mile here than just about any other city, but the area also is home to many companies with beauty products based on cutting-edge science.
"This is what the beauty industry is evolving into. Not everyone wants to go under the knife, but people want to spend their money on products that work," said Elise Minton, executive beauty editor of New Beauty, a magazine that covers science-based products and procedures.
Some of the beauty products even need regulatory approval.
"Rigorous science is the next wave in the beauty industry," Minton said.
Los Angeles does not yet have a scientific beauty company the size of Allergan Inc., the Irvine company with revenue in the billions that makes Botox, an injectable drug that removes wrinkles. But what it does have is a good dose of small to midsize companies with startlingly diverse specialties.
There's Lifetech Resources Inc., a Chatsworth company that is using amino acids called peptides to stimulate the growth of eyelashes. (See sidebar page 26.)
Obagi Medical Products Inc. is a Long Beach company that makes prescription products to prepare and heal skin for cosmetic surgery.
There's even a biotech startup, Kythera Biopharmaceuticals Inc. of Calabasas, whose lead drug candidate – an injectable fat dissolver that can eliminate sagging jowls – requires Food and Drug Administration approval. (See sidebar page 27.)
All of them are trying to tap into a global market for premium beauty products that hit $79 billion at the end of last year, according to London market researcher Euro Monitor International. Of that, anti-aging products are the growth leaders in the United States.
"Baby boomers continue getting older, and people did not stop being vain, even during the recession, so big opportunities are there," said Annabel Samimy, an industry analyst with Stifel Nicolaus & Co.
Building niche
There's good reason why Los Angeles is home to so many science-based cosmetic companies. Most of them were founded by entrepreneurial doctors who built on their success in treating the aesthetic shortcomings of Hollywood's elite.
For example, Physicians Formula Holdings Inc. was started by an allergist in the late 1930s who pioneered the hypoallergenic beauty segment. The public Azusa company is still going strong and its latest makeup formulas are seizing on another trend: using natural mineral extracts and plant-based sources such as bamboo silk.
Prev Next
For reprint and licensing requests for this article, CLICK HERE.