Roski, Billionaire Partner Square Off in NFL Bid
SPECIAL REPORT: WEALTHIEST ANGELENOS
Monday, May 24, 2010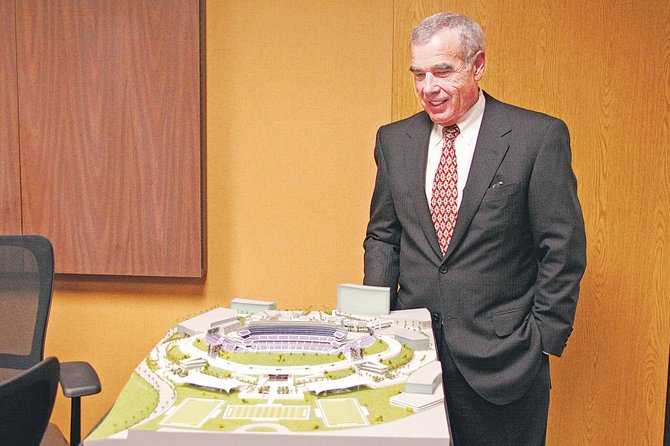 There's little doubt that becoming a Hollywood mogul can take the work of a lifetime. But there may be one billionaires club even harder to break into.
The NFL.
Many of the 32 National Football League owners have held on to their clubs for decades. What's more, they all get a say on who gets let in the door.
The billionaire industrial real estate developer Ed Roski Jr. has campaigned hard the last two years to join this exclusive fraternity with his proposed $800 million City of Industry stadium.
Now, his proposal, having hurdled several obstacles, faces yet another.
Roski finds himself in the middle of a billionaires' tussle. And with his own business partner no less: Denver tycoon Philip Anschutz, owner of AEG, the sports, music and entertainment company.
Anschutz's lieutenant, AEG Chief Executive Tim Leiweke, recently floated plans to build a downtown L.A. football stadium next to Staples Center, the arena that Anschutz and Roski partnered to build more than a decade ago.
This isn't the first time that Roski, 71, has been countered by another mogul's efforts to bring the NFL to Los Angeles.
In the late 1990s, Roski and billionaire Eli Broad backed a plan to renovate the Los Angeles Coliseum for a team. But a rival proposal by Hollywood super agent Michael Ovitz to build a stadium in Carson stymied Roski's efforts. Ultimately, the NFL became frustrated with a lack of progress in Los Angeles and awarded the expansion team to Houston.
This time, though, the rivalry is closer to home.
Roski and Anschutz kicked off their sports association in 1995, when they bought the Kings for $113 million. The two worked together to build Staples Center and Roski remains a partner in the project, which is majority owned by AEG. They are also partners in the Los Angeles Lakers, though Roski is said to have a smaller ownership stake of both teams than AEG.
Different personalities
Still, for all their long association, the men are very different.
To get a sense of how much, consider the July 2007 groundbreaking for the Los Angeles Convention Center hotel at L.A. Live., the $2.5 billion mixed-use development next to Staples Center built by AEG.
Political and business luminaries gathered to sing each others' praises and shovel some dirt at the site of the project, which was completed this month when the Ritz-Carlton Los Angeles hotel fully opened.
Prev Next
For reprint and licensing requests for this article, CLICK HERE.