Family Recipe
An daughters seek right ingredients for growth.
Monday, June 14, 2010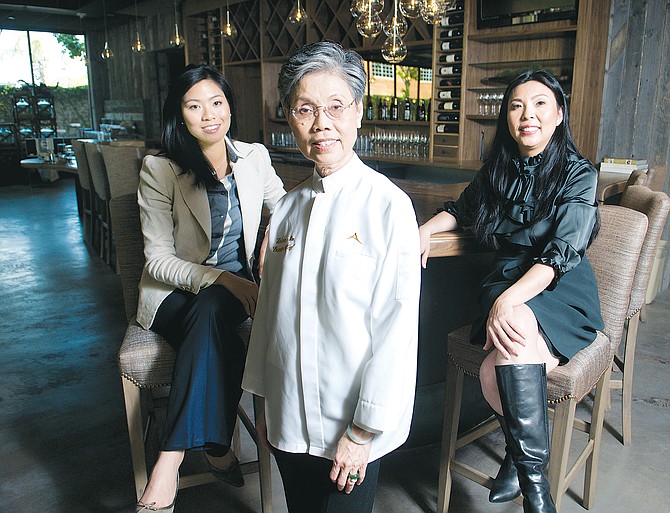 House of An, the L.A. family-owned restaurant group known for upscale Beverly Hills eatery Crustacean, is cooking up a culinary empire a la Wolfgang Puck. But it has been served a side of growing pains.
The An family is set to open its fifth restaurant, Tiato, June 21 in Santa Monica and its sixth restaurant, another Crustacean, early next year in Palo Alto.
It doesn't stop there. The family wants to turn its AnQi Gourmet Bistro & Noodle Bars into a chain; grow the An catering division; and even sell an An-branded line of kitchen and dining room products, such as chop sticks, table accessories and sauces.
"We have a big vision and dreams as a family," said Elizabeth An, chief executive of House of An, and one of five daughters of executive chef and co-founder Helene An.
But big visions aren't always easy to carry out.
Elizabeth An recognized that the family needed to recruit seasoned hospitality executives. So she started doing that two years ago, hiring people who had experience running multimillion-dollar restaurant groups. But some of the executives have already left the company because, she said, they didn't fit in.
"We tried to retire my mom and we brought in top corporate chefs and senior management," Elizabeth An said. "But we had to let them go because they didn't understand what the House of An was about. They made it too corporate."
Helene An, 67, said she'd like to retire soon. But her daughters, who range in age from 30 to 45, aren't quite ready to let her go.
"If I can get the right chef and if I can trust them, then I'd prefer to relax a little bit and let them work with my daughters," said Helene An, who on a recent Monday afternoon was in the Tiato kitchen, cooking up dishes such as eggplant lasagna topped with a Vietnamese herb. "But up until now, I don't know that they've been able to do the job. My daughters come back to me and complain that no one is as good as me."
In an attempt to keep the family touch, the Ans started hiring younger chefs who don't bring established reputations – and outsized egos – into the kitchen with them. They seem to be easier to work with.
"They love what we are doing, are proud to be part of what we are doing and they are willing to listen," Elizabeth An said.
As the family tries to take its fusion-style food national, industry insiders said the House of An is experiencing the same obstacles that other celebrity restaurateurs face.
"Puck went through a lot of the same struggles that these ladies are going through," said Ed Engoron, president and chief executive of West L.A. hospitality consultancy Perspectives/the Consulting Group Inc.
"When Puck had the original Spago, he worked seven nights a week and got all the movie stars and investors in Spago and he was doing innovative, wonderful tasting food every single night," said Engoron, who has known Puck and the Ans for years. "But when Puck started growing, he found himself, as most restaurateurs do, stretching himself."
Joachim Splichal, the founder of Patina Restaurant Group, is intimately familiar with the challenge of growing a fine-dining establishment into a far-reaching company.
"What you would like to do is bring in executives who have the same passion and entrepreneurial spirit you have," said Splichal, whose Patina group is now a multimillion-dollar company with 60 restaurants and food service operations. "That's a very important first step when hiring outside people.
"At one point, my life really changed. When we had 13 restaurants, I was really hands-on. But the moment you grow quickly you have to bring in executives and an infrastructure that can support the growth."
Helene An and her husband, Danny, a military pilot, had lived a privileged life in Vietnam. However, the couple and their three oldest daughters fled in 1975 when Saigon fell to the communists. They moved to San Francisco with little money.
Helene An helped her mother-in-law, Diana An, turn a 20-seat San Francisco deli into Vietnamese restaurant named Thanh Long. She crafted dishes from childhood memories of recipes served by the family's Vietnamese, Chinese and French chefs. Helene An started adding her own flavors to classics – such as spaghetti with garlic – in an effort to draw customers to the eatery.
'All about survival'
"So many customers would say to me, 'How did your mom come up with the garlic noodles?' And she said to me, 'That's my version of spaghetti,'" said Catherine An, the youngest of Helene An's five daughters. "When my mom first came to America, it was all about survival for her. Italian food was popular so she said, 'How can I get people to come to my restaurant and enjoy my food?'"
Helene An's garlic noodles became so popular that she built a kitchen-within-a-kitchen at Thanh Long to keep the recipe confidential. That led to a tradition of secret kitchens, only accessible to family members and longtime employees, in each of the Ans' restaurants where the garlic noodles and roasted Dungeness crab dishes are prepared.
Elizabeth An and her sisters led the efforts to open the family's second restaurant, Crustacean, in San Francisco in 1991 and then the Crustacean in Beverly Hills in 1997. The An family spent $2.5 million renovating the Beverly Hills location, where a Plexiglass floor covers a koi pond under diners' feet. The family's famous garlic noodles gained a following among celebrities such as Michael Douglas, Leonardo DiCaprio and Jamie Foxx.
At the time the Beverly Hills restaurant opened, the family moved the company headquarters from San Francisco to West Pico Boulevard south of the Miracle Mile.
Helene An and her daughters spent the late 1990s and early 2000s focused on running Thanh Long and the two Crustacean locations. But they saw more opportunities.
They launched a private catering business in 2007, which is now headed by Catherine An. Before that, the family had catered private events for such notable people as Al Gore and Hillary Clinton, but hadn't undertaken catering as an ongoing business.
In 2009, the Ans opened AnQi Bistro & Noodle Bar, a 282-person, 8,500-square-foot space at the high-end South Coast Plaza mall in Costa Mesa.
"We created AnQi because of the need of a friendlier price point," Elizabeth An said. "Customers were saying, 'We want to eat your food every day, but we can't always afford it.' "
Elizabeth An led the effort to open AnQi, which serves tapas-size items in addition to larger entrees. The average check at AnQi is $58 per person. By comparison, the average check at Crustacean is $85 per person.
Despite the lower price point, it was important for the Ans to maintain the quality associated with their name.
AnQi meals are made to order like those at Crustacean, and diners can sit at the noodle bar and watch as the chef cooks wok noodles with chicken, cabbage, carrots, baby bok choy, bean sprouts and onions.
There's some of that Crustacean Beverly Hills glamour at AnQi, too, thanks to a ruby-red crystal water garden and 60-foot runway, where on certain evenings models showcase the latest fashions.
The newest expansion is the opening of Tiato, a breakfast and lunch market café in Santa Monica that will double as an event space. It's named for the purple and green Vietnamese herb, tia to, that is a key ingredient of Helene An's signature dishes.
Of course, the opening comes at a still-challenging time for the restaurant industry. Traffic at fine-dining restaurants dropped 6 percent for the first quarter of 2010, according to Port Washington, N.Y., market research firm NPD Group Inc. Overall restaurant traffic declined 2 percent in the first quarter, the seventh consecutive quarter that restaurants saw a decline.
"People are making fundamental changes in the way they eat, the restaurants they go to and the frequency they visit them," Engoron said. "It's frightening for people in the restaurant business."
The lower prices may help. Tiato, a 232-person 11,400-square-foot space, serves breakfast and lunch items for about $12 to $15 per person.
It is on the ground floor of a Santa Monica office building that's home to Lions Gate Entertainment Corp. and EMI Music Publishing. The outdoor patio area includes a citrus and herb garden, another reference to Helene An's style of cooking; a fresh-press juice bar; and a grab-and-go section.
The office building is a contrast to the posh Beverly Hills and South Coast Plaza locations of Crustacean and AnQi. But Catherine An said the space is ideal because the family will be able to host corporate events there and that will help promote its catering business.
"It's the perfect venue space for the catering business," Catherine An said. "We built a nice beer and wine bar area to accommodate everyone for happy hour, and that will serve as a venue space during the week and over the weekend."
$800,000 renovation
Catherine An has spent about $800,000 renovating Tiato, which offers a rustic feel thanks to its old wine barrels, reclaimed woods and polished concrete floors.
On a recent Monday afternoon, Lions Gate Chief Executive Jon Feltheimer was spotted checking out the space while Catherine An was training new employees.
Meanwhile, the An family is preparing to open a fourth Crustacean in Palo Alto, and is moving the San Francisco Crustacean to a larger and more modern venue.
And Elizabeth An was in New York earlier this month negotiating a deal to sell An-branded merchandise at a national high-end retailer. She's also working on plans to expand the An brand outside of California by opening as many as a dozen AnQi Bistros in major cities throughout the United States, possibly with the same retailer.
Elizabeth An declined to discuss details of the deal, citing ongoing negotiations. However, the company is expected to announce the new venture in the near future.
But even amid the plans for An-branded merchandise and new AnQi restaurants, the main challenge remains the search for the perfect chefs.
"We understand to grow the restaurant in a much larger way need to have the best team that we can put together," Elizabeth An said. "We are still looking for that corporate chef that can work with my mother and keep her culinary tradition."
For reprint and licensing requests for this article, CLICK HERE.