So Many Chargers, So Few Electric Cars
Will hundreds of power stations really juice sales?
Monday, July 19, 2010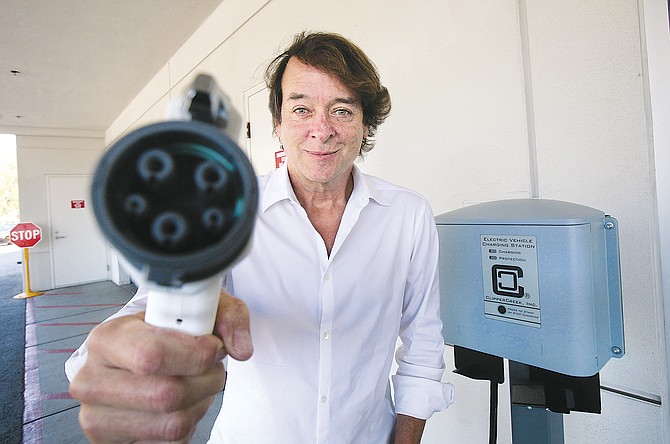 Car dealer Mike Sullivan will soon install charging stations on his lots – even though he hasn't started selling the electric cars that will need them.
Why? Because he doesn't think many customers will buy an electric car unless there are more charging stations around town.
"Anything to move the market forward is cool with me," said Sullivan, who plans to let users plug in for free.
Such is the state of L.A.'s nascent electric car market.
Boosters of the alternative vehicles are quickly expanding the supply of charging stations, probably well in excess of the demand for them. Indeed, more than a hundred electric car-charging stations already are scattered across Los Angeles County and hundreds more are coming – even though experts believe it'll be years before very many of the vehicles will be gliding noiselessly down local streets.
Although a slew of electric vehicles are scheduled to hit the market in 2011 – such as the Nissan Leaf, Chevy Volt, Tesla Model S, Coda and Fisker Karma – industry analysts said that they'll still cater to a small niche of buyers for the next five years. As a result, it will take a while for all those charging stations to get much use, let alone become profitable.
"They'll be underserved initially," said Michael Omotoso, a senior manager of forecasting at J.D. Power and Associates in Agoura Hills who specializes in alternative energy vehicles. "There's been a lot of hype regarding electric vehicles in the last year, but it will be a slow start."
Industry experts predict that only 90,000 electric cars will be sold in the United States in 2015, or about one half of 1 percent of the total. Omotoso said that if the cars are successful, sales could start increasing at that point. As such, he believes the demand for charging stations will remain insignificant.
But there seems to be plenty of effort to jump-start the sector.
Sullivan, who owns 10 dealerships under the company name L.A. Car Guy, plans to install six charging stations at his dealerships, including Pacific Volkswagen in Hawthorne and Fisker Santa Monica.
It's not a small matter. Each charger, supplied by Clipper Creek Inc., a manufacturer in Auburn northeast of Sacramento, will cost Sullivan $3,500 to install. But he won't make drivers pay to use them – and he'll even pick up the cost of electricity. The estimated cost of charging an electric car runs from $4 to $7.
For reprint and licensing requests for this article, CLICK HERE.
Prev Next