Big Apple Firm's Renovation Work Bears Fruit
REAL ESTATE: LeFraks line up PR firm ID, Live Nation as Hollywood tenants.
Monday, July 19, 2010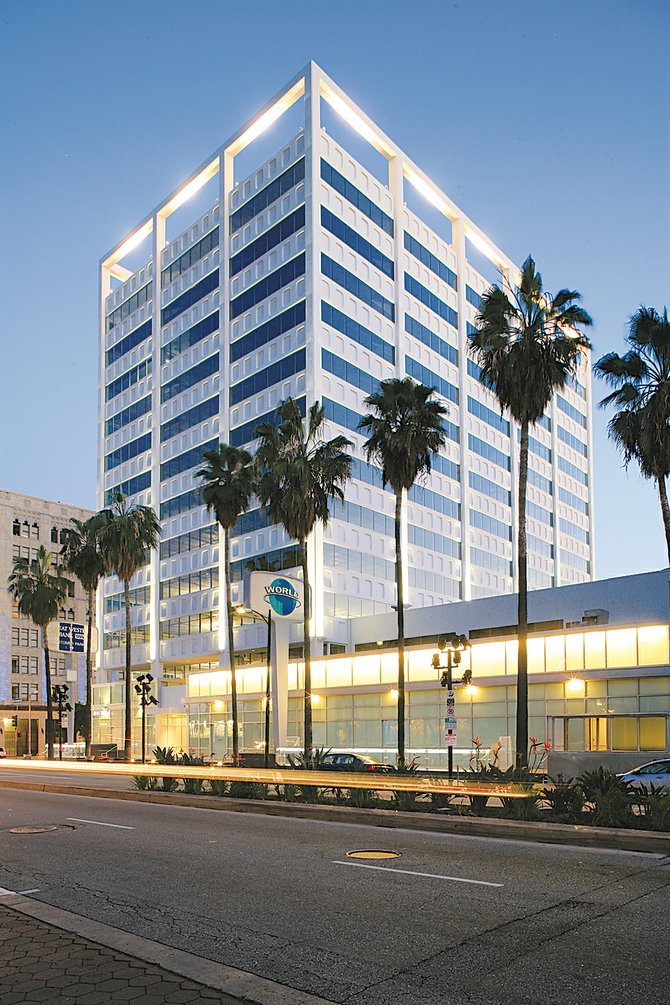 The LeFrak Organization Inc., a prominent New York family real estate business, made a splash three years ago when it scooped up a handful of high-profile L.A. assets. The deals announced the company's arrival in Los Angeles, where it pledged to increase it holdings.
In one of those early transactions, LeFrak purchased a 175,000-square-foot tower at 7060 Hollywood Blvd. in August 2007 for $50 million. Since then, a massive renovation of the Class A property has proved fruitful.
In June, prominent Hollywood public relations company ID inked an eight-year deal for a full floor at the 12-story building, which LeFrak co-owns with Kennedy Wilson Inc., a Beverly Hills real estate investment firm. The ID deal is valued at more than $4.5 million, according to Jamie LeFrak, managing director of the family business.
Previously in a deal that had been undisclosed, Live Nation Entertainment Inc., the concert promoter and venue operator, signed a 15-year lease valued at $80 million for 100,000 square feet, or seven full floors. The Beverly Hills company moved into the space early this year after signing the lease in 2009.
With the deals, the building is now 80 percent leased.
"The strategy of making the building into a real Class A office building really has been validated by the deals," said LeFrak, who runs the business with brother Harrison, also a managing director, and his father, Richard, the firm's chief executive.
The 109-year-old company, which owns more than 200 apartment buildings in New York state and New Jersey, was founded by Richard's grandfather Harry.
LeFrak spent more than $15 million remodeling the Hollywood Boulevard office building. Kelly Bush, chief executive of ID, said that the renovation impressed her. Her company will leave West Hollywood and move into the building in November, once construction of new offices is complete.
"They seem to really want me in the building and were very accommodating to what my needs were," said Bush. "I love the location."
LeFrak said that the two remaining floors at the building have been subdivided into small office suites of 1,000 or 2,000 square feet. He believes the prebuilt offices will appeal to smaller businesses looking for short-term leases.
LeFrak said that he is pleased with his company's efforts in Los Angeles so far and the family remains interested in expanding its local holdings. The company is still looking for large apartment properties – its bread-and-butter property in New York. In fact, LeFrak said that the company doesn't plan to make any more New York investments "unless they are unbelievably compelling."
Live Nation did not return phone calls seeking comment.
Studio City Sale
A 21-unit Studio City apartment building traded hands June 11 for $3.38 million in an all-cash transaction.
The property at 13100 Valleyheart Drive was purchased by IMT Residential, a Sherman Oaks apartment investor and operator. The seller was 13100 Valleyheart LLC, an entity of the Statman Family Trust of Hollywood Hills.
According to Jay Statman, a real estate attorney and managing member of 13100 Valleyheart LLC, his family decided to sell the property because it wanted to put its money in a more conservative investment.
He said that his late father, Irving M. Statman, had owned and managed the property, but he and his siblings did not have the expertise to continue owning and operating it.
"None of us were experts in apartment management as our father was, and there were issues of deferred maintenance coming up," Statman said.
The complex was built in 1971 and is subject to the city of Los Angeles' rent control ordinance. There were two vacant units at the time of sale, according to broker Jeff Louks of Marcus & Millichap Real Estate Investment Services. The building includes nine one- and 12 two-bedroom apartments. The average monthly rent at the building is $1,175.
"It's a great location, you are one block north of Ventura Boulevard," said Louks, who represented both parties. "It was a little tired. It needed plumbing, so the buyer was going to refurbish it."
Statman said that he had hoped for a higher price, but Louks said the building attracted strong interest with 10 offers and sold for $160,952 per unit. The price was not the highest offer, but IMT "just wrote a check" and paid in cash, sealing the deal, he said.
IMT did not return phone calls seeking comment.
Staff reporter Daniel Miller can be reached at dmiller@labusinessjournal.com or (323) 549-5225, ext. 263.
For reprint and licensing requests for this article, CLICK HERE.