Software Maker Calls for Growth
Help lines boost CyberDefender business.
Monday, July 12, 2010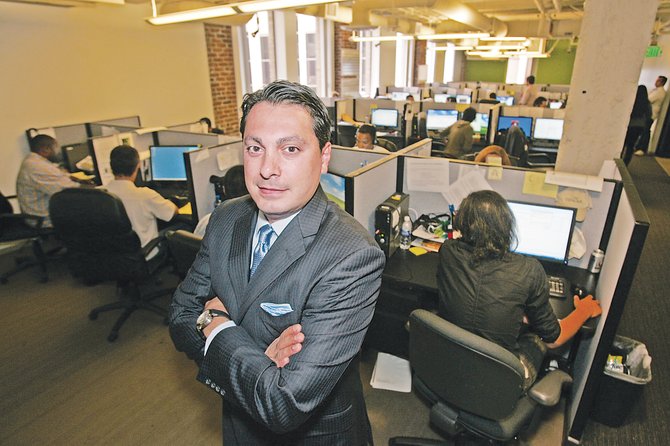 CyberDefender Corp. noticed it was getting a lot of annoying calls from customers a couple of years ago. They had bought the company's antivirus software and were calling the tech support hotline for help. But many of the problems had nothing to do with the software and more to do with basic computer troubles.
However, Chief Executive Gary Guseinov told his employees not to blow off the customers. Instead, they should act as a help desk for PC users in distress about everything from faulty Internet connections to low hard-drive space.
As a result, a small company that once focused almost exclusively on computer security software is undergoing a remarkable transformation. It's building up a massive call center in downtown Los Angeles to handle this new hotline business. Its stock was listed on the Nasdaq in June, and the company has signed a marketing contract with infomercial giant Guthy-Renker to promote the service, including in a couple of dozen foreign countries.
"We're seeing a huge demand from customers," Guseinov said.
The company now has more than 100,000 subscribers for its call-in tech service. It has call centers in Los Angeles, New York, India and the Philippines that handle more than 4,000 calls a day, including orders to buy its security software.
To keep up with the flood of calls, CyberDefender is growing its downtown L.A. headquarters. The call center, which has been open for a year and a half, started with only a handful of employees, but staff now numbers 200 and will increase by more than 500 by year's end. (The company has a total of 250 employees plus about 500 contract employees.) CyberDefender recently expanded its headquarters to accommodate the growing staff, taking 17,000 additional square feet of space and now has 40,000 square feet in its building at Seventh and Hope streets.
The company's original business was to make and sell software to protect computers against viruses and malicious software, known as malware, that could infect a computer or expose personal information to identity theft. The company, founded in 2003, also provided call-in support for its products.
But now when potential customers call CyberDefender to order security software, they are also offered a $300 yearlong subscription for any type of PC support. A customer with this subscription gets 24-hour phone or Internet access to the company's tech specialists to receive help on common quandaries, such as installing a printer.
The full-service tech support has been a boon to CyberDefender. It accounts for roughly half its business.
The company had $18 million in revenue in '09; this year, it took in $9 million in the first quarter alone. However, the company isn't profitable. Losses were $11.2 million in 2008 and $13.7 million in 2009.
CyberDefender's growth allowed the company to give its stock a promotion from the Over-the-Counter Bulletin Board to the Nasdaq Global Market.
"They're now on the right platform to get noticed," said Robert Breza, a software analyst for Toronto-based RBC Capital Markets. "They're doing things right at this point. Now it's up to the company to execute."
CyberDefender shares began trading on the Nasdaq on June 9 at $4.70. The thinly traded stock closed at $3.80 on July 7.
While its tech support business has taken off, it's in the security software arena where CyberDefender faces the challenge of competing with such established giants as Mountain View-based Symantec and Santa Clara-based McAfee.
"We're still struggling," Guseinov acknowledged. "It's going to take a lot more energy and capital to get to the point where customers ask, McAfee, Symantec or CyberDefender?"
Hence, the company's new business model. CyberDefender's promise to help with all computer problems is different than what Symantec offers, Breza said.
"They have a very unique offering that consumers demand," he said. "They're addressing a void that people have needed filled."
When CyberDefender first began to expand its tech service two years ago, it outsourced its sales and tech support to India. Operating the overseas call center cost CyberDefender one-third what it would have in the United States, Guseinov said.
But the call center was less effective than it would've been closer to home, he said. "Outsourcing creates many obstacles. Language and cultural differences are pretty substantial. U.S. agents can deal with customers' requests without miscommunication."
So in 2009, CyberDefender moved 50 percent of its offshore tech support services to its downtown L.A. headquarters. The company still maintains small call centers in India and the Philippines for its international customers.
By placing the main call center at its headquarters, executives have been able to better study how clients are responding to the support service.
"By pulling this back in-house, it really gives us a much more granular view of the business," said Jeff Gove, senior vice president of call center operations. "It helps us determine what's working and what's not."
To get more customers to subscribe to the tech support service, CyberDefender is leaning on marketing partner Guthy-Renker. Since collaborating in 2008, Guthy-Renker has helped the company develop commercials that tell customers the story of the expanded business.
Santa Monica-based Guthy-Renker – a marketing company best known for infomercials selling Proactive and beauty products – has also helped CyberDefender expand its international reach. Guseinov signed a 28-country licensing deal with GR Match, a Guthy-Renker affiliate, in April. The deal gives GR Match the right to market CyberDefender's antivirus and Internet security software internationally. It could also help boost call-in tech support subscriptions.
"It certainly gives them a broader base of customers," said Boris Shimanovsky, president of GR Match. "It allows customers internationally to call and get similar services that U.S. customers get."
While CyberDefender is placing greater emphasis on its help-desk side, Guseinov said the company is still pressing forward on security products. It plans to invest millions of dollars in antivirus software this year, hiring a team of researchers and creating a research laboratory.
One way the company is hoping to grow in the software market is through its research lab, which will be similar to the ones Symantec and McAfee operate.
But Guseinov also understands that it could take CyberDefender several years of research to prove it has staying power.
"Creating brand loyalty is going to take us a while," he said. "Credibility is only built over time."
For reprint and licensing requests for this article, CLICK HERE.