Jeans Maker Looks to Nordstrom to Get Leg Up
RETAIL & APPAREL: Evy fashions high-end 'jeggings' to woo department store customers.
Monday, July 12, 2010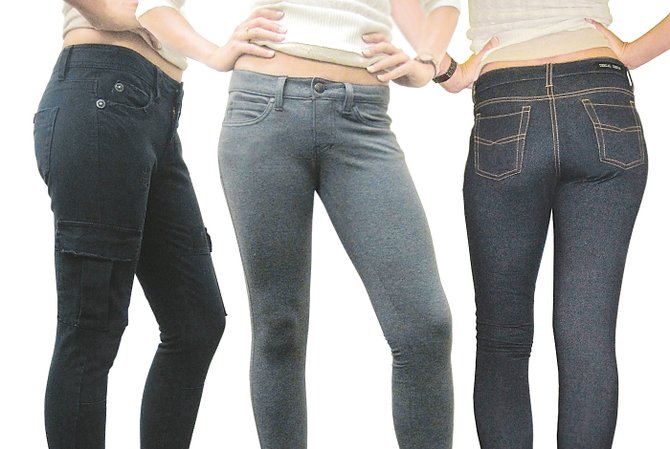 Evy of California scored a success with its Jalate "jeggings" – skin-tight jeans that resemble leggings more than trousers. The item was a hot seller at Nordstrom last year.
So the company, which has been in the jeans business since it bought Jalate Regulated Denim in 2004, launched Denial, a brand to appeal to shoppers looking for the same style in higher quality. The fabric, zippers and distressed look on Denial pants were designed to appeal to Nordstrom customers. Jalate pairs sell for $20 to $36; Denial's range is from $36 to $70. Both lines are mostly denim but include some nondenim trousers, too.
Denial jeans are now available at Nordstrom, along with upscale Midwest department store Von Maur. Evy, a downtown L.A. company, is planning to sell the line at other upscale retailers by the end of this year.
"We've opened up an opportunity with some better department stores to do their price points," said Kevin Krieser, president and chief operating officer at Evy.
Evy also manufacturers juniors' apparel line Fleurish Clothing, private-label sportswear, and holds licenses for brands such as Hello Kitty, Sideout and Skelanimals. The company employs 190 and makes its clothes in 12 countries.
Sales for the Jalate line doubled during the previous two years thanks to the popularity of the jeggings.
Krieser said Evy's jeggings made up 6 percent of sales of Nordstrom's junior bottoms in 2009. That prompted the company to approach the chain with the idea of creating a slightly more expensive line of bottoms.
"They liked that we can operate at a higher price point that's still attractive to their customers and still pushes the limits in the design," Krieser said.
Restaurant Work
Jeremiah Higgins hadn't planned for a career in the restaurant industry – he wanted to be in show biz so he went to USC and studied film.
But Higgins later found success as a restaurant executive. About a year and a half ago, he teamed up with former Los Angeles Galaxy player Cobi Jones and chef Scott Leibfried to form Santa Monica consultancy HJL Group Restaurant Advisors.
HJL Group is now preparing for the August launch of an instructional website for restaurant owners and chefs. The site, called Evolve, sells how-to guides, recipes and training videos.
Higgins said HJL wants Evolve to be a one-stop site for the hospitality industry, where restaurant owners and managers can get any guidance they need. The site is designed to function as a virtual consultant, and restaurateurs should be able to call it up to learn how to manage any kind of eatery.
Prev Next
For reprint and licensing requests for this article, CLICK HERE.