Hire Gear
American Apparel scrambles to restaff while adding products
Monday, July 5, 2010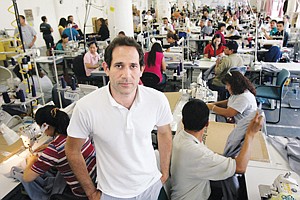 Even with record unemployment, American Apparel's chief, Dov Charney, can't hire enough factory workers. He's even walked the streets of Alhambra himself, handing out fliers printed in Chinese and Spanish, advertising for cuttting and knitting jobs that pay $8 to $18 an hour.
Why the struggle? He lost 2,500 workers – more than half his factory staff – after an immigration crackdown by the federal government. Charney said most applicants don't have documentation showing they can legally work in the United States.
"Hiring workers isn't easy," he said. "Even when we advertise that you need to have solid immigration documents, people still come with false IDs."
But hiring enough workers to make American Apparel's signature T-shirts, skin-tight leggings and mesh bodysuits is just one of the challenges faced by the downtown L.A. company – the largest clothing company that still manufactures domestically.
American Apparel's same-store sales dropped 10 percent in 2009, and Charney wants to change that by adding collared shirts and other clothing that's more complicated – but more expensive to make. Also, the company announced June 24 that it escaped defaulting on a credit agreement, but its new interest rate is a high 17 percent. As if that weren't enough, Beverly Hills billionaire investor Ron Burkle has acquired a 6 percent stake in the company and is likely to want a say in how Charney runs his show.
"Some people would say these are problems," Charney said during an interview last week at the downtown headquarters of American Apparel, which has more than 10,000 employees and 280 retail stores in 20 countries. "And some would say they are opportunities that we have as we repair these things, go through them and learn."
Whether you look at them as challenges or opportunities, it's been a wild ride for Charney and his company since September, when American Apparel was forced to fire more than 1,500 immigrant employees – about one-third of its factory work force at the time. The firings were a result of an investigation by the federal Immigration and Customs Enforcement agency. The employees' documents didn't match federal Social Security or immigration records.
Charney, a Canadian native and outspoken advocate for giving immigrants the right to work in the United States, said that about 1,000 additional employees quit soon after because they feared they'd get caught in the crackdown, too.
The loss of workers presented American Apparel with the formidable challenge of hiring and training factory workers.
Prev Next
For reprint and licensing requests for this article, CLICK HERE.