TRYING TIMES
L.A. lawyer courts controversy, big rulings
Monday, January 25, 2010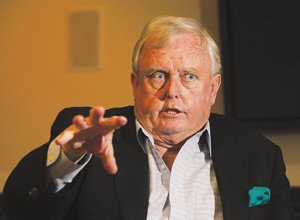 Pierce O'Donnell, whose larger-than-life personality matches his husky frame, won the most rewarding case of his high-profile, 37-year legal career recently.
His latest victory – on behalf of Hurricane Katrina victims – not only earned him national headlines, but it showcased the odd position he occupies. O'Donnell has faced setbacks and serious legal problems of his own, and he suffers a bipolar condition. Despite that, he's often called to adopt big, complicated, conspicuous cases.
Take the Katrina case. O'Donnell was defending himself in a local political scandal in August 2005 when the hurricane broke floodwalls and seawater poured into New Orleans. Several Louisiana trial lawyers recruited O'Donnell to serve as lead counsel in a historic lawsuit against the U.S. Army Corps of Engineers. O'Donnell labored on the litigation for the next four years. He traveled to the city about 30 times. His wife told him he was talking about the case in his sleep.
In November, a federal judge found that the poor maintenance of a major navigation channel by the Army Corps led to some of the worst flooding of Katrina. It was the first time the government had been held liable for any of the hurricane flooding, and the ruling could result in tens of millions of dollars paid to property owners.
"We were up against the unlimited resources of the U.S. government and two immunity statutes," O'Donnell said during an interview with the Business Journal last week at his downtown L.A. office. "It was like getting an elephant through the eye of a needle. I don't think anyone gave us a chance four years ago."
The Katrina case, although still subject to possible appeal by the government, has brought O'Donnell no small gratification. But another federal case has been a cause of grief for the 62-year-old.
In July 2008, O'Donnell was indicted on federal charges of campaign finance violations for allegedly having his firm's employees make $26,000 in campaign contributions to the 2004 presidential campaign of John Edwards, then reimbursing them.
But he's chalking up some successes in his defense. He says that he did what was alleged, but he didn't break any laws.
U.S. District Court Judge S. James Otero threw out two of the three charges against O'Donnell in June, and federal prosecutors then dismissed the remaining charge. Prosecutors then appealed Otero's decision to throw out the two charges, and the Ninth Circuit U.S. Court of Appeals heard arguments in the case Jan. 15. The appeals court decision is pending.
Prev Next
For reprint and licensing requests for this article, CLICK HERE.