TRYING TIMES
L.A. lawyer courts controversy, big rulings
Monday, January 25, 2010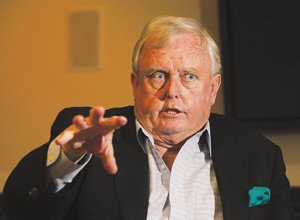 Pierce O'Donnell, whose larger-than-life personality matches his husky frame, won the most rewarding case of his high-profile, 37-year legal career recently.
His latest victory – on behalf of Hurricane Katrina victims – not only earned him national headlines, but it showcased the odd position he occupies. O'Donnell has faced setbacks and serious legal problems of his own, and he suffers a bipolar condition. Despite that, he's often called to adopt big, complicated, conspicuous cases.
Take the Katrina case. O'Donnell was defending himself in a local political scandal in August 2005 when the hurricane broke floodwalls and seawater poured into New Orleans. Several Louisiana trial lawyers recruited O'Donnell to serve as lead counsel in a historic lawsuit against the U.S. Army Corps of Engineers. O'Donnell labored on the litigation for the next four years. He traveled to the city about 30 times. His wife told him he was talking about the case in his sleep.
In November, a federal judge found that the poor maintenance of a major navigation channel by the Army Corps led to some of the worst flooding of Katrina. It was the first time the government had been held liable for any of the hurricane flooding, and the ruling could result in tens of millions of dollars paid to property owners.
"We were up against the unlimited resources of the U.S. government and two immunity statutes," O'Donnell said during an interview with the Business Journal last week at his downtown L.A. office. "It was like getting an elephant through the eye of a needle. I don't think anyone gave us a chance four years ago."
The Katrina case, although still subject to possible appeal by the government, has brought O'Donnell no small gratification. But another federal case has been a cause of grief for the 62-year-old.
In July 2008, O'Donnell was indicted on federal charges of campaign finance violations for allegedly having his firm's employees make $26,000 in campaign contributions to the 2004 presidential campaign of John Edwards, then reimbursing them.
But he's chalking up some successes in his defense. He says that he did what was alleged, but he didn't break any laws.
U.S. District Court Judge S. James Otero threw out two of the three charges against O'Donnell in June, and federal prosecutors then dismissed the remaining charge. Prosecutors then appealed Otero's decision to throw out the two charges, and the Ninth Circuit U.S. Court of Appeals heard arguments in the case Jan. 15. The appeals court decision is pending.
"I don't know why I was prosecuted, but I'm defending myself at great financial expense and some emotional wear and tear," O'Donnell said. "I will not plead guilty to a felony and be automatically disbarred."
Some lawyers have said that the indictment was politically motivated because of O'Donnell's advocacy for Katrina victims. He won't discuss that theory.
After O'Donnell's indictment, he stopped taking on new clients, and gave current ones the option of finding other counsel. But none did so, and many in L.A.'s legal community have continued to support him.
Eric George, a well-known business litigator and Republican Party power broker, said O'Donnell's reputation has withstood the charges.
"I think Pierce has absolutely weathered the storm," said George, who has known O'Donnell for 10 years.
The campaign finance accusations against O'Donnell haven't stopped people from seeking him out for big cases, and they haven't stopped him from winning them, either, said Ann Marie Mortimer, who practiced with him for 14 years starting in the 1990s.
"There are some who are ready to criticize Pierce," Mortimer said. "But the Katrina case proved to any naysayers that Pierce isn't back, he's always been here."
Storied career
Born and raised in upstate New York, O'Donnell received his bachelor's and law degrees from Georgetown University.
At Georgetown, he became friends with Bill Clinton.
O'Donnell tells the story that Clinton wanted to be a Rhodes scholar, but didn't have any athletic experience for the application. O'Donnell was set to become chairman of the Georgetown student athletic commission, but instead handed the title to Clinton, who used the role to satisfy the athletic requirement.
"Over a pitcher of beer and a handshake, Bill became chairman, used it on his Rhodes application and became a Rhodes scholar for Arkansas."
After graduating from Georgetown Law School in 1972, O'Donnell clerked for U.S. Supreme Court Justice Byron White. He then went to Yale Law School until 1975, after which he went to a prominent Washington, D.C., firm. He moved to Los Angeles and began practicing in 1978.
He joined the Century City office of Kaye Scholer LLP in 1988, where he met his second wife, Dawn, also a lawyer. They live in Santa Barbara with three school-age children. He has two adult children from his previous marriage. O'Donnell spends Monday through Thursday in Los Angeles, rooming at the California Club when he's not at his office.
While at Kaye Scholer, O'Donnell picked up what would become one of his most famous cases, Art Buchwald versus Paramount Pictures. O'Donnell represented the Pulitzer Prize-winning humorist. He proved that the studio's hit "Coming to America" was based on an idea that was stolen from Buchwald. The case was more notable, however, because it unveiled Hollywood's bizarre accounting practices: The studio claimed that the film, which cost $48 million to produce and took in $145 million at the box office, was not profitable. Eventually, the writer won $1 million.
O'Donnell gained much attention from the Buchwald case. Forbes Magazine called him "the new Perry Mason in Hollywood." But he didn't stick to battling movie studios.
In 1996, O'Donnell left big-law life and launched his own firm, O'Donnell & Shaeffer LLP, where he started defending major corporations.
In the 1990s, O'Donnell defended Lockheed Martin Co. in 3,200 toxic tort claims in state and federal court, and defended Pfizer Inc. in 375 emotional distress cases involving allegedly defective heart valves. He won both.
But he also sued big companies. After California's 2000 to 2001 energy crisis, O'Donnell served as lead counsel in the largest consumer antitrust class-action recovery in U.S. history. The case accused El Paso Natural Gas Co. and Sempra Energy, which owns Southern California Gas Co. and San Diego Gas & Electric Co., of manipulating natural gas supplies and prices during the energy crisis. It settled for $3.5 billion, and O'Donnell, along with 13 other plaintiff's lawyers, received $161 million in fees.
'Hellish disease'
As O'Donnell's courtroom victories mounted, so did his personal problems.
The Los Angeles County District Attorney's Office had charged O'Donnell in June 2004 with hiding the identity of donors who contributed to former Mayor James Hahn's campaign in 2000 and 2001. He pleaded no contest in February 2006 to making the illegal contributions. He was fined $155,200 including penalties, placed on three years probation and barred from participating in any political fundraising for three years.
The case had a profound impact on O'Donnell.
"To pick up the newspaper and see your picture on the front page of the L.A. Times California section on June 1, 2004, and you are the subject of the story, and you've got 25 or 26 misdemeanors filed against you in the Hahn case, was a devastating, out-of-body experience," he said. "I descended into a severe depression. I didn't even want to come to L.A. for three months, and I didn't go out publicly."
After several years of counseling, O'Donnell learned that he has bipolar disorder. He's now taking medication and continuing counseling to keep the disorder in remission.
"The most important thing for me was to discover what my problem was and to face it," he said. "It's a very hellish disease."
As a result of the scandal and his condition, he decided to change his working methods. O'Donnell & Shaeffer became the L.A. office of Hunton & Williams LLP when he left in 2006 in order to start a smaller shop, O'Donnell & Associates PC, where he would only take on high-profile, high-impact cases.
The Katrina case is one of those.
O'Donnell admittedly became obsessed with the case. He pored over 50 years of government records, and learned about civil engineering, coastal science, oceanography, meteorology and environmental science from world-renowned experts.
"My colleagues would get e-mails at 3, 4 or 5 in the morning," O'Donnell said. "My wife said I would sit up in bed and start talking about the case. Was it obsessive? Maybe. The good part of being manic bipolar is the obsessive part, the manic part; walking through walls, going sleepless."
Even though a federal judge has ruled that the Army Corps failed to properly maintain the 76-mile deep-draft vessel waterway, the case isn't over. (Called the Mississippi River-Gulf Outlet, the canal was built as a shortcut for ships traveling between the Gulf and New Orleans, although locals long complained the waterway acted as a "hurricane highway" to the city.)

The government is expected to appeal the ruling, but O'Donnell is hopeful that the Obama administration will agree to a settlement instead.
"If we can hold on to it, and if Obama keeps is word, than we are going to try to settle in the next year," O'Donnell said.
Next fight
His next task also has gained him some headlines. He is trying to convince a court that Las Vegas casinos Caesars Palace and Rio bear some responsibility for a client's $127 million, yearlong gambling binge.
Wealthy philanthropist Terrance Watanabe, whose personal fortune came from his family's party-favor important business Oriental Trading Co., hired O'Donnell in October.
O'Donnell is representing Watanabe in a civil case, in which he is suing Harrah's Entertainment Inc. the parent of Caesars and Rio, for routinely giving him alcohol and pain medication allegedly to keep him gambling.
He is also defending Watanabe in a criminal case. The Clark County District Attorney's Office has accused Watanabe of intent to steal from Harrah's in relation to $14.7 million that the casino says it credited him and that he lost.
O'Donnell is prepared to take the case against Harrah's to trial despite a long list of casinos that have been successful in defending these types of allegations.
"To tell Pierce O'Donnell, a stubborn Irish Catholic kid, that you can't do something in the law because it's never been done before is an invitation to try and do it and really succeed," he said.
For reprint and licensing requests for this article, CLICK HERE.