Funding a Thorny Issue for Rose Bowl
Pasadena venue may turn to ads to pay for renovations.
Monday, February 1, 2010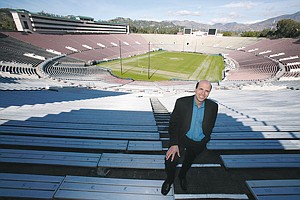 A Rose Bowl entrance gate named after Coca-Cola? Wedding receptions in the press box of the venerable venue?
Stadium and city officials in Pasadena are seeking ways to pay for the largest renovation in the history of the Rose Bowl. Options include selling corporate sponsorship rights to stadium gates and scoreboards, and opening up the venue to events such as weddings. Officials also may pursue federally subsidized bonds or simply ask for donations.
Of all those possibilities, increased advertising at the stadium would represent the most significant change for the Rose Bowl. Unlike most other big arenas, the Pasadena venue hasn't been plastered with ads. Darryl Dunn, chief executive and general manager of the city-owned stadium, said he wanted to preserve its clean look.
"But if we're going to make improvements, we have to pay for it somehow," he said.
The renovations, which are expected to cost between $160 million and $170 million, are still in the planning stages. Officials hope to break ground on the improvements in 2011 and wrap them up by Jan. 1, 2014 – just in time for the 100th Rose Bowl game.
Stadium officials and supporters said the planned improvements are long overdue and will bring the 87-year-old Rose Bowl up to par with more modern stadiums.
The renovations would increase the size of the facility's press box and expand the number of premium seats from 500 to more than 2,000, add a state-of-the-art video screen as well as a vintage scoreboard from the 1940s, widen the stadium's access tunnels, and add concession stands and restrooms.
Several rows of field-level seats would be torn out and replaced with a line of hedges. Old plumbing and electrical wiring that hasn't been touched for more than a decade would also be upgraded.
"This is really more than anything else the right thing to do and the right time to do it," Dunn said. "The stadium is 87 years old, construction costs are low, interest rates are low and there's momentum."
It could also inject new vigor into a stadium that in past years has lost money. As recently as 2005, the Rose Bowl lost around $2 million. Dunn said figures for the current fiscal year haven't been tallied yet, but he expected the Rose Bowl will be profitable.
Ways to pay
To pay for the plan's hefty price tag, officials are exploring ideas they haven't before, including soliciting private donations. Andrea Van de Kamp, a well-known figure in L.A. philanthropic circles who had led the campaign to raise money for the Walt Disney Concert Hall, is leading a study on the feasibility of a donation campaign and how it could be conducted.
Prev Next
For reprint and licensing requests for this article, CLICK HERE.