Free-to-Play Pays Off for Game Firm
Online hit 'League' prompts Riot to add 100 workers.
Monday, December 20, 2010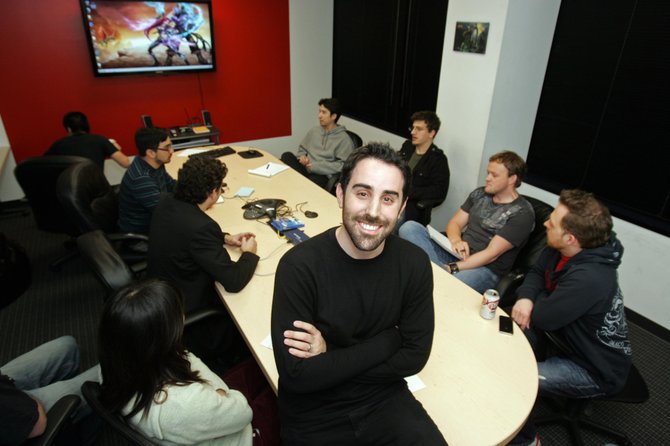 Brandon Beck and Marc Merrill became fans of online video games in college. And after they watched one of their favorite titles attract more than 7 million players in just a few years, they decided to design a game of their own.
So in 2006, they hired two of that game's developers and launched their own company, Riot Games, with the backing of two venture capital firms. The company released its fantasy adventure game, called "League of Legends," in October of last year. It attracted more than 2 million online players within nine months.
Now the Culver City company is doing something unusual: It will add about 100 employees to its current 140 just to keep up with massive demand for new game features.
It's a rare bright spot in this era of persistently high unemployment in Los Angeles, said Nancy Sidhu, chief economist at the Los Angeles County Economic Development Corp.
"There aren't an awful lot of parts of the economy where jobs are being added," she said. "They're hiring in advance of their expected growth in 2011. That's very progressive of them and suggests they have a lot of confidence in themselves and their product."
Beck, Riot's chief executive, noted that the jobs are the result of "League of Legends' " popularity.
"We grew slowly as we started," said Beck, who co-founded the company with Merrill, now president. "Since the launch of the game, growth has been much more rapid."
"League of Legends" is a free online game in which players pick a team and try to destroy opposing players. Such games attract millions of online players thanks to a free-to-play model, said David Cole, an analyst with DFC Intelligence, a San Diego video game market research firm.
Instead of generating revenue from subscriptions or sales like most other games by American developers, free-to-play games generate money from players who pay small fees for extra features such as new characters, weapons or even holiday-themed costumes. Prices range from a dollar or two to $15 or so for such add-ons.
Beck and Merrill were inspired by the success of free-to-play game "Defense of the Ancients," which drew more than 7 million players after its launch in 2003. That's a lot of players. The problem is not many spend money.
"Players can play as long as they want without putting any money into the game," Beck said. "In fact, some of our best players have never spent any money in the game."
So it's challenging for online games to bring in cash.
"With these games, you're not talking hundreds of millions of dollars in revenue," Cole said.
Adding on
Beck would not release revenue for Riot but said that the company makes enough money from sales of the add-ons to hire the 100 new workers and expand its office to house them. The company also makes money from selling a special-edition version of the game in stores for $30.
"Surprisingly enough, some people buy the game in stores," Cole said. "They call it a collector pack and throw in figurines or additional bonus features."
As the game launched last year, Riot employed 50 people at its office in a Culver City corporate park. Since then, the company has nearly tripled its staff to 140 and opened a European office in Dublin, Ireland.
The company's website is now advertising job openings in almost every department, including art director, marketing director and web developer. Beck said Riot is most focused on hiring programmers and developers who can add elements to the game to keep up with high player demand.
Riot has already expanded its current office space twice to keep up with its growing staff. Now the company plans to move into a building somewhere on the Westside that will be three times the size of its current digs to accommodate its new employees, Beck said.
Sidhu said that some video game companies are growing, including those that boomed when their games launched. But not every company can keep up the momentum.
"There are companies in the video game sector that expanded when their games came out," she said. "And they're now finding that they have to shrink because there is so much competition."
Riot has raised $20 million from venture capital firms Benchmark Capital and Firstmark Capital, an approach that is unusual in the world of video games.
Most often, game developers forego venture funding in favor of deals with large publishers such as Activision Blizzard or Electronic Arts. But because primary distribution for "League of Legends" is through online downloads instead of retail sales, Riot wouldn't have benefited from a publishing deal, Beck said.
"We were interested in being very player focused, and to us that meant running 'League of Legends' as a service, with regular updates. We also wanted to provide the game for free," he said. "Those factors made both a traditional, completion-based, sales revenue-sharing deal a challenge, and it made starting 'League of Legends' within a large corporation impractical."
The industry's most successful companies are largely South Korean, and better established. One of the most popular games in Korea is "MapleStory," a role-playing game from developer Wizet that has more than 100 million subscribers worldwide.
Free-to-play games have been popular in Asia, especially Korea, for several years because Internet broadband speeds are faster and able to better accommodate the games' complex graphics.
"A lot of the big competitors are coming from Korea," Cole said. "Those companies have been very successful over there and are able to fund expansion worldwide."
The online game market in the United States grew slowly during the last four years, but Cole believes it could see a boom in the not too distant future. He points to growth at small studios like Riot as a sign that the market is finally taking off.
"If you ask developers, the growth has been much slower than expected," he said. "It's getting to the point where people are starting to take notice."
For reprint and licensing requests for this article, CLICK HERE.