He's Not Playing
Toymaker asks if rival rigged industry awards
Monday, December 13, 2010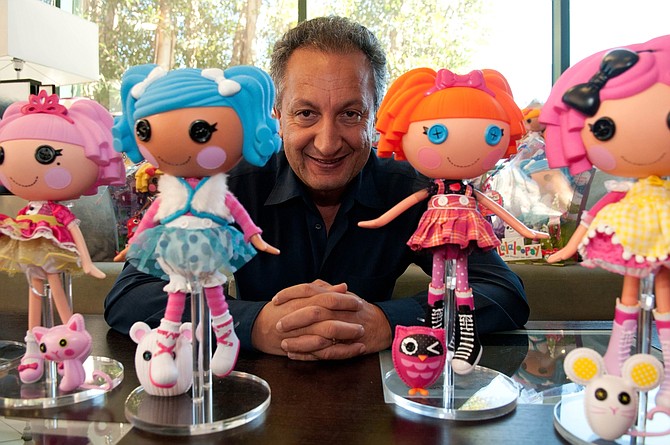 Bratzmeister Isaac Larian isn't kidding around in a dispute with the toy industry's leading trade group.
The chief executive of MGA Entertainment Inc. has long believed his dolls get dissed in favor of his arch rival Mattel Inc. when it comes time for the Toy Industry Association's annual awards.
Now, he thinks his hot-selling line of rag-dollish Lalaloopsies didn't get its due. The association didn't nominate the dolls, which have been called a surprise hit by some analysts, for any of the prestigious Toy of the Year Awards, considered the Oscars of the play industry.
The omission prompted him to send a scathing letter to the organization's president and members of the media. Larian questioned whether Mattel of El Segundo pressured the group to snub Van Nuys-based MGA and its Lalaloopsy line, which he himself submitted for consideration.
"Lalaloopsy should have been nominated, there is no question about it," Larian said during an interview. "But our friends in El Segundo make dolls and they are sitting on the association's board and God forbid another company comes up with a doll that's popular."
In a Nov. 29 letter to the association's president, Carter Keithley, Larian called for the group to make changes in how it operates.
"It is time for special interest politics within the TIA to be set aside," he wrote.
Mattel declined to comment on Larian's claims. But Stacy Leistner, vice president of communications for TIA, said the organization isn't swayed by any member in its annual awards or its overall operations.
Larian pulled out of the group in an earlier dispute. Leistner said both member and nonmember toymakers can submit products for consideration for the 11 different award categories. Each category's nominees are then selected by committees of retailers, academics, inventors, designers, journalists and bloggers. Award winners are determined by association members; journalists; retailers; and consumers, whose votes are weighted.
"Neither TIA staff nor TIA members have any influence," Leistner said.
MGA's Lalaloopsy doll, an updated version of a rag doll outfitted with fashionable clothes and button eyes, started selling at mass retailers and toystores in August and became a surprise hit. A spokesman for Toys "R" Us, which featured Lalaloopsy on its Holiday Hot Toy List, said the doll's been selling "very well."
Jim Silver, editor in chief of online trade publication TimetoPlayMag.com, said Lalaloopsy has been the breakout hit of the season. Silver said he understands Larian's displeasure with the association over the snub of the dolls.
Prev Next
For reprint and licensing requests for this article, CLICK HERE.