Reality TV Winner's Game for Online Challenge
TECHNOLOGY: 'Apprentice' Kelly Perdew hopes to diversify with Fastpoint.
Monday, December 6, 2010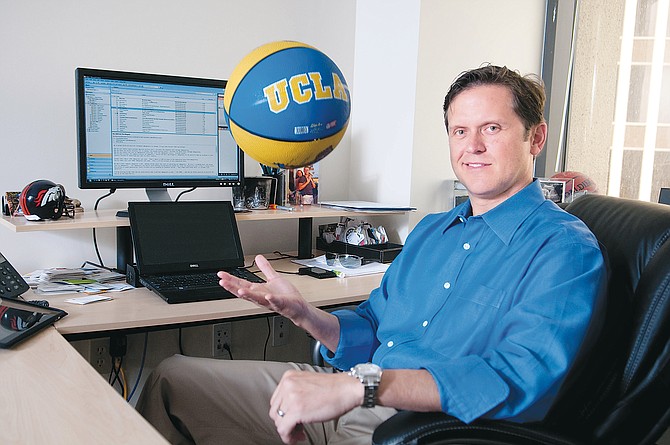 ''Apprentice" champ Kelly Perdew has a new game plan.
He has started a company to create online games for brands. Fastpoint Games, which launched last week, has become the parent company of RotoHog, which specialized in fantasy sports games.
RotoHog was founded in 2006 as a website for sports fantasy leagues similar to those popularized by ESPN and Yahoo Sports. But since Perdew – the winner of the second season of Donald Trump's reality show – joined the L.A. in 2008, it has expanded from fantasy sports to developing online games for other companies. For example, Fastpoint developed an US Weekly game where readers guess who will be featured in the magazine.
RotoHog's business has changed so much in the last two years that Perdew decided he should create Fastpoint as the home for nonsports games. RotoHog will continue to run as Fastpoint's fantasy sports division.
Perdew said that launching Fastpoint was a way to differentiate the company's new business from its fantasy sports roots.
"The RotoHog name has a lot of context for our games in the sports space," he said. "Fastpoint Games lends us the capability to provide games across multiple sectors."
RotoHog has also become a place for Fastpoint to test its technology on consumers before selling it to businesses.
"RotoHog is almost like our mad scientist laboratory," Perdew said. "That's where we get to try things out so we can tell our clients that it works."

When Perdew joined RotoHog in 2008, he was charged with getting the company's finances out of the red. Two years later, he said that the company is nearing profitability. Focusing on game development through Fastpoint Games could be what the company needs.
"Both internally and externally, this represents a significant milestone and change in how we go about doing business," he said.
Farming Servers
Where do Internet companies house their computer servers and store large amounts of digital data? Server Farm Realty is hoping to provide the answer.
The El Segundo company has started designing and building data centers where Internet giants or much smaller tech startups can lease storage space.
A subsidiary of Red Sea Group, an Israeli real estate investment and development company, Server Farm plans to open two data centers by May. The centers, in Moses Lake, Wash., and Santa Clara, have been specially designed to accommodate the high-powered computers they will store.
"You have to have a lot of power and be able to back it up with generators," said Avner Papouchado, Server Farm's president and chief executive. The buildings also have reinforced roofs and a cooling system that will keep the structures cold to prevent the computers from overheating.
The Moses Lake facility can harvest hydroelectric power from the nearby Columbia River; the Santa Clara facility will put the company in the center of Silicon Valley.
Server Farm already has one tenant, which Papouchado would not name, signed up to move into the Moses Lake center, scheduled to open May 1. Rental rates are based on the amount of power used rather than square footage.
Red Sea Group has been leasing data centers to tenants since 2000, but the company recently started Server Farm to design and develop its own centers.
"We wanted to develop the brand around the data centers and offer a certain standard," Papouchado said.
Family Launch
FamilyFinds, a daily deal website, officially launched last week. The Santa Monica-based site provides e-mails with deep discounts – a la Groupon – on family-related activities and products.
FamilyFinds also announced last week the completion of a $5.75 million funding round led by Split Rock Partners.
FamilyFinds follows a hyperlocal model, with deals for L.A.-area cities and neighborhoods such as Pasadena, the Westside and South Bay. Deals could range from 78 percent off Santa photos to $35 for a family membership to Petersen Automotive Museum.
The company has the backing of several L.A. entrepreneurs. Chief Executive Matt Coffin's co-founders include Jake Winebaum, former chairman of Disney Internet Group; Doug Hirsch, a Facebook and Yahoo Entertainment veteran; and Brian Barnum, a former Business.com and Rent.com executive.
Staff reporter Natalie Jarvey can be reached at njarvey@labusinessjournal.com or at (323) 549-5225, ext. 230.
For reprint and licensing requests for this article, CLICK HERE.