Eight Over 80 - Vin Scully
Special Report: EIGHT OVER 80
Monday, December 6, 2010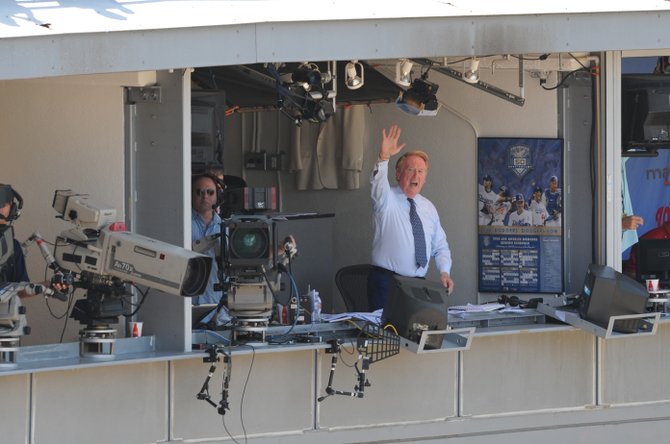 Vin Scully | 83 | Announcer, Los Angeles Dodgers
Why not retire?
Announcing has been my life and I've loved every minute of it. I'm very busy splitting infinitives, dangling participles and running up expenses. We'll have to wait and see how I feel at the end of 2011. My main concern is that I've had a lot of yesterdays and I'm not quite sure how many tomorrows.
Does your wife want you to retire?
Sandra realizes how much I love doing what I do. She has paid like any wife in our business; she's made a great sacrifice because there are many a lonely day and night where I'm caught up in the business itself.
What's the best part of working past 80?
People have referred to sports as the toy department. It keeps me feeling young mentally and physically.
The worst?
Being away from home.
Are you up to date on technology?
I rely on my computer a great deal. I have e-mail and recently purchased an iPhone. I'm trying to catch up in the 21st century, but I would much rather hold a book or newspaper in my hands than use a Kindle or read off of computer screens.
What is the best advice you ever got?
I'm not big on advice.
What advice would you give to people interested in getting into your profession?
As a professional sports announcer, it would help to know whatever sport you're aiming to do. Plan to go to a university that has an FM station on campus. I had that at Fordham University in New York.
What's the secret to staying healthy and active?
If I had to guess, it would be good genes. My mother lived to be 97. In the off-season, I like to play golf and run after my 18 grandchildren. During the season, I try to swim a bit.
Do you work as much as you used to in your 40s and 50s?
I don't travel as much as I used to. I don't go east of Denver and therefore I stay in the western division. I do about 110-115 games now as opposed to 162.
What do you miss from when you were young?
I still feel very much young at heart.
For reprint and licensing requests for this article, CLICK HERE.