Boutique Owner Extends Shelf Life
Lisa Kline stays open by cutting back on stores and staff.
Monday, December 6, 2010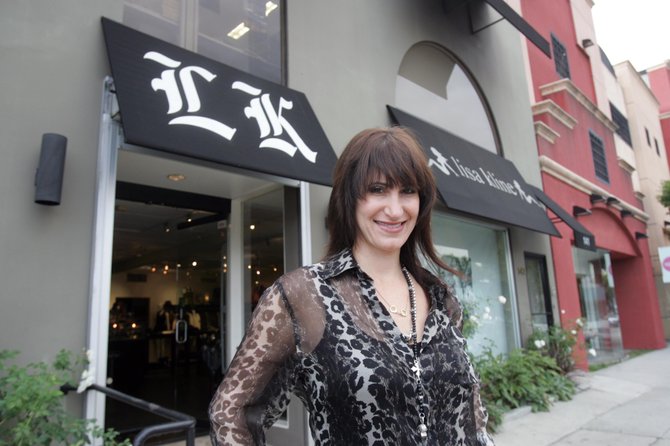 Gone are the days when customers would drop thousands of dollars for designer apparel at Lisa Kline's chain of high-end boutiques, known for the paparazzi gathered outside as L.A.'s glitterati shopped inside.
Sales at her stores started declining when the Hollywood writers strike hit three years ago and then plummeted frighteningly with the recession two years ago. As Kline was scrambling to avoid bankruptcy, her husband, who'd worked alongside her, died in a freak accident: While sleepwalking, Robert Bryson fell from the second-story balcony of their Malibu home.
Rather than give up, she decided to regroup. She chopped the number of her eponymous shops from six to two and now has one-eighth the number of employees. There are far fewer high-price goods at her stores, and she's open to more changes.
"It's a blank canvas," said Kline, a petite brunette who talks fast while gesturing emphatically with her hands. "I am starting over with 15 years of experience under my belt."
But if she wants to make another run toward the top of L.A.'s trendy clique of fashion boutiques, she knows she must do more than merely start over.
She plans to start her own clothing line. While she's made some Lisa Kline-branded apparel such as T-shirts in the past, she's never designed her own collection to be sold by other retailers. In addition, she's been meeting with producers about a reality TV show focused on her children's store.
Kline admitted that her comeback has not been easy. She's now a widowed mom who had to give up the Malibu house. There's more labor; she works six days a week, does all the buying for her shops and jumps out on the floor to try to make a bigger sale when a celebrity shows up.
"I was astounded by the strength that she had, and her resilience through so many of the things that happened," said Jenifer Kaplan, one of her few remaining employees.
Said Kline: "I put on my game face and I went to work and did my thing."
Valley Girl
Even as a young girl growing up in Encino, Kline, now 41, dreamed of owning a retail store. She even tallied the cost of running one with her father, an accountant.
She went to New York to study fashion design in the early 1990s, then moved back to Los Angeles and opened a shop on Robertson Boulevard between Third Street and Beverly Boulevard. Although the Ivy restaurant, the celebrity hangout, was near her shop, that stretch of Robertson was otherwise unremarkable.
She named her store Lisa Kline. "I told my parents I will be the next Fred Segal," she said, convincing them to co-sign a line of credit even though their friends warned them against it.
The 1,200-square-foot boutique featured apparel that Kline purchased at trade shows in New York and from designers in downtown L.A.'s fashion district. Her mother sold collectible and antique goods from the back of the space.
The boutique morphed into a clothing store as Kline started to build a clientele among L.A.'s trend-setting twentysomethings and, most significantly, celebrities. Kline said Hollywood actresses, including Lisa Rinna and Lori Loughlin, shopped at her store from the beginning, perhaps because of its proximity to the Ivy.
Soon, her name was hot. The store was featured in lifestyle magazines and on TV. She also worked with industry stylists to dress the stars on shows such as "Beverly Hills 90210" and "Melrose Place."
A round of expansions followed. She opened Lisa Kline Men's across the street from her women's boutique on Robertson in 1999. Two years later, she expanded the women's boutique, buying out the lease on the store next door.
Kline then opened a men's store at the Malibu Country Mart and an outlet store on trendy Melrose Avenue, both in 2004. Two years later, the Lisa Kline Men's store on Robertson became so busy she moved into a larger space on the street and turned the original men's space into a Lisa Kline Kids.
By about that time, though, her strip of Robertson was becoming a victim of its own success.
The street gained national attention thanks to celebrities such as Britney Spears, Paris Hilton and Lindsay Lohan. That attracted national brands such as Coach and Intermix, which moved in after buying out smaller, independent retailers of their leases. As a result, rents on Robertson soared from $5 per square foot per month to as much as $20 per square foot.
Kline opened a Beverly Hills store in 2006 on Beverly Drive south of Wilshire Boulevard where she could cater to her celebrity clientele without the distractions and danger of the paparazzi – a private entrance in the back allowed celebs to walk in without being noticed – and continued to expand her retail enterprise.
"We were raging. It was so busy and out of control," Kline said.
Rocky road
But then Kline's business turned south. Sales dropped when production was shut down during the Writers Guild of America strike. Her stores had been popular with those who worked in the entertainment industry or people closely associated with it, such as fashion stylists. Kline closed her men's clothing store in Malibu in October 2007.
"Robertson was a ghost town," Kline recalls. "No one was shopping. They were shopping like maniacs before the strike, and so they probably had clothes with tags still on."
Kline couldn't convince her landlords to lower the rent. So, she cancelled orders and stopped purchasing inventory, leaving her stores' shelves sparse. Then she began laying off employees, including her and her husband's personal assistants and merchandise buyers. She and her husband stopped taking paychecks.
And when the financial crisis hit in September 2008, she told her husband that it was time for him to leave the business and get a job. She also started cutting down on personal expenses. She laid off her housekeepers and nannies, stopped eating out, started clipping coupons and put her Malibu house on the market.
When the writers strike hit, Kline's sales dropped 40 percent. When the recession hit, sales nosedived 80 percent, she said. Her employee count, which peaked at 85, is now down to 10.
Bryson died in January 2009 in a fall from the second floor at about 1 a.m. Kline heard the impact, rushed to revive him, but he was already dead.
"It was really hard," Kline said. "Even though he had passed away and I had to deal with all that stuff emotionally, grieving, I had a business to save."
She convinced the landlord to cut the 3,000-square-foot women's store on Robertson in half. That helped her chop what had been a $50,000-a-month lease. She made a deal to get out of the lease at the Melrose store, and then moved out of the Beverly Hills location.
Jay Luchs, Kline's longtime friend and a real estate broker who specializes in high-end retail, said it was the right move.
"Some people wouldn't want to close stores, worried that it would send the wrong message," Luchs said. "She wanted to trim the fat and focus on running a business."
As Kline managed to keep her business going, she also starred in the Bravo reality TV show "Launch My Line" in mid-2009.
On the show, Kline judged clothing designers who were competing for the chance to start their own line. She was paid, and the show raised her profile in the industry.
Kline gave up her Malibu home last year in a short sale. She rents a Studio City house, where she lives with her 6-year-old daughter, Dylan, and 4-year-old son, Colt.
Earlier this year, Kline closed the original women's store on Robertson and turned the Lisa Kline Men's shop into a unisex boutique, which features a wet bar and arcade game among the high-end merchandise, including $100 hooded men's sweatshirts and $385 women's designer tops.
Nikoleta Panteva, an apparel analyst in the Santa Monica office of market research firm IbisWorld, said Kline still faces challenges as customers are spending less.
"She needs to look at her market position, know where she stands, who her competition is and how she can have a leg up on that," Panteva said.
Kline is now focused on the combined shop and the Lisa Kline Kids store a few doors down. She's working six days a week – she takes Mondays off to be with her kids – and is back to being more hands-on with the business.
She buys all of the merchandise for her stores, a task delegated to others during the boom years, and she buys less. For example, she used to spend $8,000 to $12,000 on merchandise per vendor and now spends $1,500 to $2,500. She's also been selling on consignment.
In addition, Kline started selling less expensive items, such as scarves and costume jewelry, and she's cut prices. For example, customers can now buy a trendy top for $60 to $100; before the range would have been more like $150 to $300. There are still high-price items but fewer of them.
"The customer is shopping different," Kline said. "They will buy one thing instead of 10 things. Now, we need to try and make every sale as big as we can."
She sometimes jumps in to work the sales floor. She cut short an interview with the Business Journal to help "Entourage" star Jeremy Piven try on a selection of shirts.
The turnaround is ongoing and it hasn't been easy. But so far, she said, she's managed to survive.
"I got out of every situation that would have put us out of business," Kline said.
For reprint and licensing requests for this article, CLICK HERE.