Lessons Learned
The founders of online study site Cramster added more college subjects to reach a wider user base.
Monday, August 9, 2010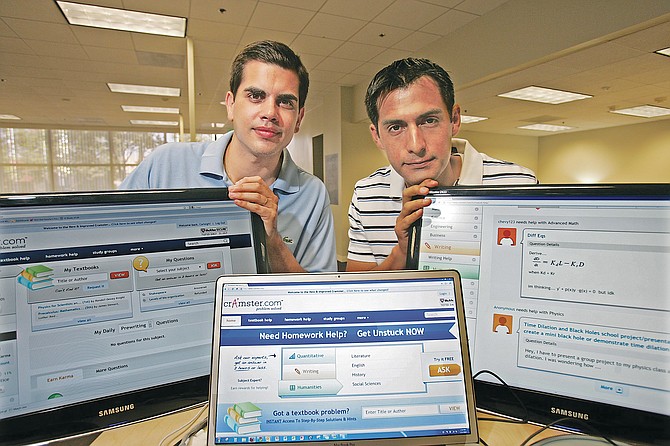 Editor's Note: This story has been changed from the print version to correct the company's projected revenue for 2012.
Aaron Hawkey was an electrical engineering student at UCLA struggling through his math and science classes in 2001 when he got the idea for an online study group that would help stumped students find answers to their questions.
Over the next year, Hawkey turned that inspiration into Cramster, a website that provides detailed solutions to textbook questions and gives people an online platform where they can help each other solve their homework dilemmas.
The Pasadena-based website has more than 200,000 users today. The company is poised for a significant increase in traffic and subscriptions. It specialized in math, science and engineering, but recently added English and humanities studies to its repertoire. Those areas might appeal to millions more students.
Hawkey, Cramster's chief executive, and co-founder Robert Angarita said that it appears they have turned their idea into a working business model.
"The majority of students on a campus know about Cramster," said Angarita, who is also the company's president.
Nevertheless, it hasn't always been easy. They both worked full-time jobs at other companies for the first two years of Cramster's life. Then they had to open offices in India because they couldn't afford the cost of American workers. In 2006, their revenue slumped when they decided to transition from subscription only to "freemium" – meaning there is no charge to use most of the site, but those who want extra services have to pay a $10 monthly subscription.
Cramster offers students help with homework by providing answers to textbook questions or letting students answer each other's questions on the website's forums. One feature the site has pioneered is "karma points," which it grants to users who answer other students' questions in the discussion forums. The points can eventually be redeemed for prizes, including laptops or iPods.
Cramster launched before online social networking became the phenomenon that it is today. Since then, other homework help sites have popped up offering similar services. Koofers, a Reston, Va.-based website, and Sunnyvale-based Course Hero both boast large databases of old exam questions or previously written research papers available to subscribers.
But Mark Suster, a partner at Century City venture capital firm GRP Partners, said Cramster's social networking features and karma point system help set it apart.
"It's obviously resonating with people," said Suster, who mentored the company in 2009 through his LaunchPad L.A. program, which shepherds local startups through a year in their development. "So many companies that you come across in the tech sector are trying to find a business model that works, and Cramster's got that already."
The private company has been steadily growing for the last nine years. Hawkey said revenue has doubled every year but one since 2002. Revenue comes from ad sales – mostly for education-related products and services – and subscriptions. Although Hawkey wouldn't release specific financial information, he said he expects that the company will reach $25 million in revenue by 2012.
The website's recent addition of humanities and writing components could help it get there. With roughly two-thirds of all college students taking humanities or writing classes, Angarita said this was the way to tap into a larger user base.
"We were doing well on the revenue standpoint, but we needed to make an impact on a lot more people," he said.
Jon Bischke, founder of video tutoring website EduFire and audiobook website LearnOutLoud, said Cramster's biggest challenge may be the empty pockets of its customers: Students generally have limited funds to spend on subscriptions.
"Because sites that charge students directly have trouble extracting a lot of monetary gain from any one particular student, it's difficult for them to break out and become really big companies," he said.
Bootstrapped beginnings
Hawkey and Angarita met as students at Pasadena's La Salle High School. Later, they took time off from their college studies to pursue another company, Intramurals, which helped college students sign up online for sports teams.
They sold the company to sports marketing firm Street Zebra for $1 million. (Street Zebra later went out of business.) Hawkey and Angarita then went back to school to finish their degrees – electrical engineering at UCLA for Hawkey and business at USC for Angarita. But both students felt alienated from classmates after their time away, and had trouble finding study groups.
"It was hard to find people to study with or do homework with," Angarita said. "You're at a huge disadvantage if you don't have that study group to help you out."
At first, they developed Cramster part time while they finished school and got jobs at Pasadena software company Acero Solutions. Then, in 2004, they realized that the website could succeed if they committed full time to the venture.
The pair decided not to raise money and instead relied solely on Cramster's revenue to keep the business afloat. But they understood that to turn the venture into a moneymaker, they would need to expand their staff well beyond their five employees in Pasadena.
They didn't have enough money to hire the staff they needed in the United States. So they opened two offices in India with 150 people to handle customer service, market research, accounting and technology.
Angarita moved to India for three months and wrestled with language barriers and logistics issues there. Later, they hired more people for the company's Pasadena office – where they now have 18 employees – which helped them streamline communication with their offices in India.
In 2007, Hawkey and Angarita decided to tweak the website's model from a subscription-only site to a freemium site. Although Hawkey knew the change would slash revenue at first, he believed it was a necessary step to drive more traffic.
"We needed to make an impact on a lot more people," he said.
The freemium model helped Cramster attract customers such as Bradley Paul. The 54-year-old police chief who lives in Saco, Maine, had gone back to school to earn a bachelor's degree in criminal justice and was struggling in his statistics class. He searched Google for homework help and found Cramster.
Using the free subscription, Paul tested the site and found that it answered his questions, so he signed up for a $10 monthly subscription.
"It was like somebody flipped the light switch on," said Paul, who has since graduated from Husson University in Bangor, Maine. "It just worked fantastically."
Hawkey said he doesn't expect Cramster to work for everyone, but he wants the website to offer help for any student who needs it. To do this, the company is looking to expand to other college courses and even into high school classes in the future.
"We're just scratching the surface," he said. "We want to make sure that we can help any student, any time."
Cramster.com
FOUNDED: 2002
HEADQUARTERS: Pasadena
CORE BUSINESS: Online study help for college courses.
EMPLOYEES: 18 in Pasadena; 150 in India (up from 13 in Pasadena and 120 in India in 2009)
GOAL: To expand into all study areas.
THE NUMBERS: Doubled revenue every year except one since 2002 founding; $25 million projected revenue in 2012.
For reprint and licensing requests for this article, CLICK HERE.