Lessons Learned
The founders of online study site Cramster added more college subjects to reach a wider user base.
Monday, August 9, 2010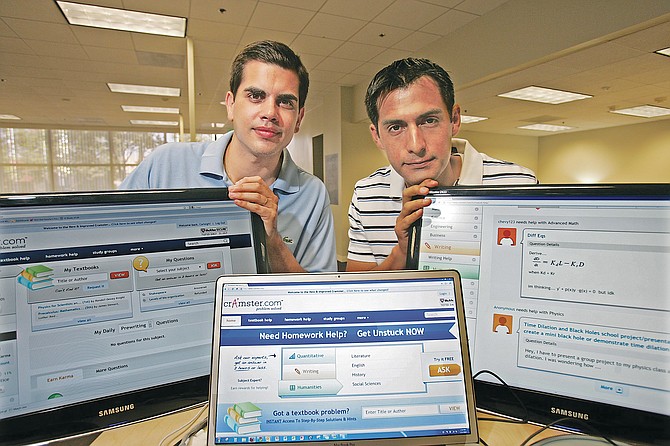 Editor's Note: This story has been changed from the print version to correct the company's projected revenue for 2012.
Aaron Hawkey was an electrical engineering student at UCLA struggling through his math and science classes in 2001 when he got the idea for an online study group that would help stumped students find answers to their questions.
Over the next year, Hawkey turned that inspiration into Cramster, a website that provides detailed solutions to textbook questions and gives people an online platform where they can help each other solve their homework dilemmas.
The Pasadena-based website has more than 200,000 users today. The company is poised for a significant increase in traffic and subscriptions. It specialized in math, science and engineering, but recently added English and humanities studies to its repertoire. Those areas might appeal to millions more students.
Hawkey, Cramster's chief executive, and co-founder Robert Angarita said that it appears they have turned their idea into a working business model.
"The majority of students on a campus know about Cramster," said Angarita, who is also the company's president.
Nevertheless, it hasn't always been easy. They both worked full-time jobs at other companies for the first two years of Cramster's life. Then they had to open offices in India because they couldn't afford the cost of American workers. In 2006, their revenue slumped when they decided to transition from subscription only to "freemium" – meaning there is no charge to use most of the site, but those who want extra services have to pay a $10 monthly subscription.
Cramster offers students help with homework by providing answers to textbook questions or letting students answer each other's questions on the website's forums. One feature the site has pioneered is "karma points," which it grants to users who answer other students' questions in the discussion forums. The points can eventually be redeemed for prizes, including laptops or iPods.
Cramster launched before online social networking became the phenomenon that it is today. Since then, other homework help sites have popped up offering similar services. Koofers, a Reston, Va.-based website, and Sunnyvale-based Course Hero both boast large databases of old exam questions or previously written research papers available to subscribers.
But Mark Suster, a partner at Century City venture capital firm GRP Partners, said Cramster's social networking features and karma point system help set it apart.
"It's obviously resonating with people," said Suster, who mentored the company in 2009 through his LaunchPad L.A. program, which shepherds local startups through a year in their development. "So many companies that you come across in the tech sector are trying to find a business model that works, and Cramster's got that already."
For reprint and licensing requests for this article, CLICK HERE.
Prev Next