Give and Take
Charities fear tax plan will stifle donations
Monday, April 26, 2010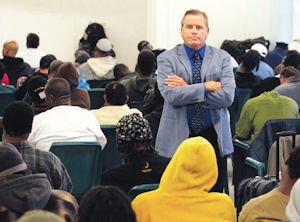 Last year proved to be the toughest in the 118-year history of the Union Rescue Mission. Demand for its services hit an all-time high at the same time donations shriveled.
This year is already shaping up even worse for the downtown L.A. homeless shelter. Charitable giving has dropped an additional 21 percent, while demand for its services continues to rise.
But now, if President Obama's proposed federal budget is enacted in October, the future could be even direr. The budget not only would raise the tax burden for the shelter's wealthy donors, but it would significantly cut the credit for charitable giving.
"As much as I'd love to be my normal optimistic self and say that people give despite the tax law," said Rev. Andy Bales, the shelter's chief executive, "I'm hearing from too many friends who really weigh the tax benefits before they give."
The proposed changes, which would go into effect Jan. 1 if they are adopted by Congress, would raise the marginal tax rate for couples with incomes greater than $200,000 from 30 percent to 36 percent. Income greater than $250,000 would be taxed at 39.6 percent, up from 33 percent.
What's more, a 28 percent cap would be placed on charitable gifts that can be claimed as a tax credit, down from 35 percent.
U.S. Treasury Secretary Timothy Geithner has argued the proposed changes, which will help pay for health care reform and other programs, are likely to have only a "modest effect" on giving.
"The most important thing you can do for overall charitable giving," he said, "is make the economy strong."
But the Union Rescue Mission is one of many non-profits that fear the effect will be far worse.
Neil R. Finestone, founder and chief executive of Finestone Partners, a Beverly Hills firm that advises clients on wealth management, estate planning and charitable giving, doesn't believe those fears are unfounded.
While very large donors may "find a way around" the lowered charitable deductions, such as by making bequests, Finestone said, smaller donors will likely just pull back.
For example, a couple earning $250,000 annually could incur an additional tax liability of $16,500 under the proposed new rules. That's nearly the $20,500 that the average such couple would give to charity, according to census data.
Even if they still gave the average amount, the reduction of the tax credit means that instead of saving $7,175 in taxes for their $20,500 donation, the couple would only save $5,740 – a difference of $1,435 that would have to come out of their pockets.
Prev Next
For reprint and licensing requests for this article, CLICK HERE.