Taking a Plunge
Port of L.A. pushes into alternative fuel while some truckers still struggling with LNG rigs.
Monday, April 19, 2010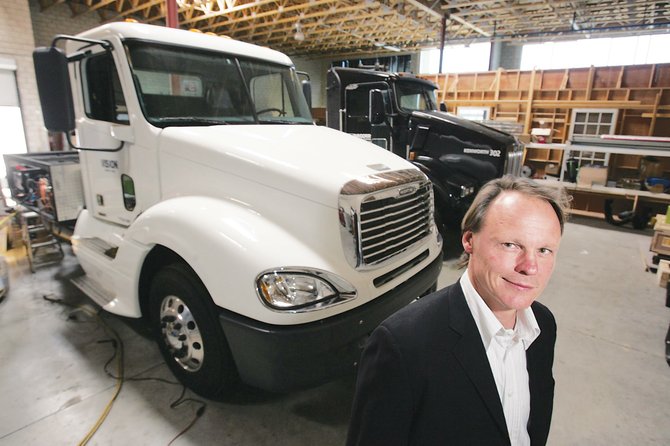 Vision Chief Executive Martin Schuermann acknowledged the port was taking a chance on what he termed "radically new technologies."
"It's a leap of faith for the port," he said, "These trucks aren't even commercially available yet. This is a breakthrough for our company."
Vision is one of several new companies in Los Angeles County's growing alternative-fuel and electric vehicle industry. Among them are Balqon Corp., a Harbor City startup manufacturing all-electric trucks for the port. Other companies include Tesla Motors, a Palo Alto maker of luxury electric cars that has a local design studio.
John Bousel, chief executive of Calstart, a Pasadena non-profit consortium that promotes the alternative-fueled vehicle industry, said he had not heard of Vision until the company joined Calstart earlier this year.
But he noted the company has partnered with Capacity of Texas of Longview, Texas, one of the leading manufacturers of "terminal tractors," which are used to transport cargo containers and other equipment around port terminals.
"They are new, but they seem to be making good strides with that deal at the port and their partnership with Capacity of Texas," Bousel said.
Long process
The greenhouse gas law is adding another layer of complexity to the regulatory environment at the port, which two years ago, in conjunction with the Port of Long Beach, instituted the program that seeks to slash diesel emissions 80 percent by 2012.
That Clean Air Program has banned all trucks manufactured before 1994 from operating at the ports and required those older than the 2004 model year to be retrofitted. The program affected more than 10,000 trucks that serviced the port of L.A. Portions of the L.A. port's plan are being challenged in court by the trucking industry.
Terminal authorities encouraged trucking companies operating drayage operations – short-haul cargo container trips within the port – to switch as many vehicles as possible to liquefied natural gas, a technology designed to dramatically reduce diesel emissions.
To date, about 575 of the L.A. port's fleet of 10,000 short-haul trucks have been switched to LNG, and many others have adopted new cleaner-running diesel engines. As a result, the port is expected to reach the 80 percent level this year, well ahead of the 2012 deadline.
However, the switch to LNG has not gone smoothly. Though the trucks are made by major diesel engine manufacturers, one issue has been the limited number of LNG stations, which presumably would be an issue with hydrogen-powered trucks. There is one LNG station in Long Beach and another in Carson.
For reprint and licensing requests for this article, CLICK HERE.