Taking a Plunge
Port of L.A. pushes into alternative fuel while some truckers still struggling with LNG rigs.
Monday, April 19, 2010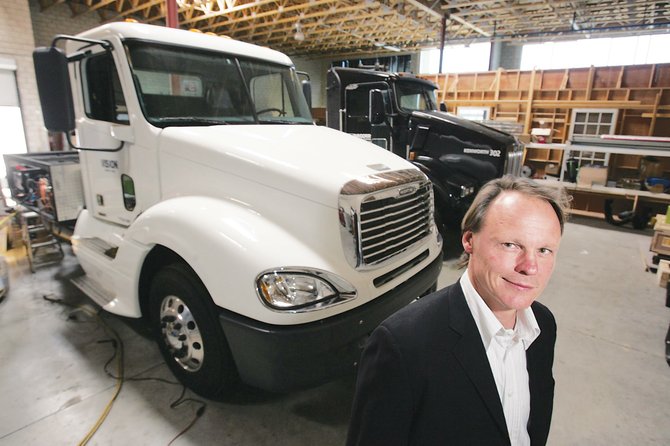 Feeling the heat of the state's controversial greenhouse gas law, the Port of Los Angeles is aggressively pursuing a program that could replace diesel rigs with exotic fuel cell trucks.
This month, the Board of Harbor Commissioners approved spending $280,000 to buy an experimental big rig – the very first sale for Vision Industries Corp., a tiny publicly traded startup in Pacific Palisades.
Equipped with a hydrogen fuel cell that recharges its electric battery, the truck is designed to carry a 40-ton load up to 200 miles before refueling. That makes it viable for midrange runs to warehouses as far away as Riverside.
The board took the action even as some port truckers are still struggling with converting from diesel to liquefied natural gas rigs, as required under the port's separate Clean Air Program targeting diesel emissions. What's more, some two dozen all-electric trucks purchased from another company have yet to be tested on the road.
Director of Operations John Holmes said the port has no choice but to push ahead with its alternative-fuel program given AB 32, the greenhouse gas law that requires the state to cut carbon emissions to 1990 levels by 2020. Many business groups are critical of AB 32 for the costs it's imposing on businesses.
"To meet those goals we have to be very forward thinking in our fleet," Holmes said. "In order to get where we need to be, we have to look beyond conventional diesel and LNG to electrical trucks. We want to demonstrate there are viable alternatives."
The hybrid electric-fuel cell truck is expected to be delivered by Sept. 1 and will initially be used to haul the Los Angeles Harbor Department's 50-foot mobile home with educational exhibits that tours Southern California.
In the meantime, negotiations are under way with several state and federal agencies – including the California Energy Commission and the federal Department of Energy – for funding to buy 20 more of the rigs, which would be leased cost free to companies working in the port for testing. It's not certain how large the port market will be for Vision, given that many trucking firms recently purchased new trucks because of the Clean Air Program.
Still, the port's decision was a coup for Vision, founded in Florida six years ago as Cheetah Consulting Inc. The company changed its name and relocated to California in late 2008 after acquiring licensing for its electric drive system and hydrogen fuel cell technology from Ice Conversions Inc., a Malibu firm.
Vision Chief Executive Martin Schuermann acknowledged the port was taking a chance on what he termed "radically new technologies."
"It's a leap of faith for the port," he said, "These trucks aren't even commercially available yet. This is a breakthrough for our company."
Vision is one of several new companies in Los Angeles County's growing alternative-fuel and electric vehicle industry. Among them are Balqon Corp., a Harbor City startup manufacturing all-electric trucks for the port. Other companies include Tesla Motors, a Palo Alto maker of luxury electric cars that has a local design studio.
John Bousel, chief executive of Calstart, a Pasadena non-profit consortium that promotes the alternative-fueled vehicle industry, said he had not heard of Vision until the company joined Calstart earlier this year.
But he noted the company has partnered with Capacity of Texas of Longview, Texas, one of the leading manufacturers of "terminal tractors," which are used to transport cargo containers and other equipment around port terminals.
"They are new, but they seem to be making good strides with that deal at the port and their partnership with Capacity of Texas," Bousel said.
Long process
The greenhouse gas law is adding another layer of complexity to the regulatory environment at the port, which two years ago, in conjunction with the Port of Long Beach, instituted the program that seeks to slash diesel emissions 80 percent by 2012.
That Clean Air Program has banned all trucks manufactured before 1994 from operating at the ports and required those older than the 2004 model year to be retrofitted. The program affected more than 10,000 trucks that serviced the port of L.A. Portions of the L.A. port's plan are being challenged in court by the trucking industry.
Terminal authorities encouraged trucking companies operating drayage operations – short-haul cargo container trips within the port – to switch as many vehicles as possible to liquefied natural gas, a technology designed to dramatically reduce diesel emissions.
To date, about 575 of the L.A. port's fleet of 10,000 short-haul trucks have been switched to LNG, and many others have adopted new cleaner-running diesel engines. As a result, the port is expected to reach the 80 percent level this year, well ahead of the 2012 deadline.
However, the switch to LNG has not gone smoothly. Though the trucks are made by major diesel engine manufacturers, one issue has been the limited number of LNG stations, which presumably would be an issue with hydrogen-powered trucks. There is one LNG station in Long Beach and another in Carson.
"That's been one of the biggest issues we've had," said Robert Carrick, western region vocational manager in charge of naturalized gas for Freightliner Trucks, a Seattle-based manufacturer. "You've got to plan your trip to make sure you can get to the stations."
Also, some have reported problems, including California Cartage Co., a Long Beach logistics company that contracts with nearly 500 truckers to haul freight from the ports of Los Angeles and Long Beach.
"We encountered a lot of mechanical problems at the start," said company President Bob Curry. "We're slowly overcoming them."
Now, the port is grappling with AB 32, the greenhouse gas law that will require a sharp reduction in the use of fossil fuels – even of LNG – in order to meet its carbon-reduction goals.
Signed by Gov. Arnold Schwarzenegger in 2006, the law has generated strong opposition from the oil and gas industry as well as those who fear it will slow economic growth. Assemblyman Dan Logue, R-Chico, is leading a group, reportedly funded by oil companies and anti-tax groups, seeking to place an initiative on the November ballot that would repeal the law.
However, with the governor standing thoroughly behind AB 32, the port has been taking steps to reduce its carbon emissions. The first step in that direction came in 2008 when it spent $5.3 million to buy 25 electric trucks from Balqon.
Carbon reductions
Like those produced by Vision, the Balqon trucks are designed to carry heavy loads. But unlike Vision's hybrids, the Balqon fleet runs on lithium batteries that go a maximum of 12 hours on a single charge. Thus, Balqon's vehicles must stay within shouting distance of the terminals.
Port officials said the first four trucks were delivered in late March, with the rest expected in about 90 days. Holmes said the strategy is similar to its plans for Vision: allow the Balqon models, which cost about $190,000 or about 40 percent more than a diesel rig, to be used without cost by trucking companies in exchange for rigorous testing likely to last a year.
Balqon Chief Executive Balwinder Samra said the company, founded in Samra's garage, has yet to make a sale to private parties – but he hopes that will change.
"Currently, we are demonstrating every week to different clients, but have not concluded any more sales," he said. "If you talk to me next week, I might have a different answer."
Like Balqon, Vision has started small and still only has a handful of employees. Schuermann said that he raised $2.5 million from friends and family so he could acquire and develop the electric drive system and hydrogen fuel cell technology from Ice Conversions.
Other electronics are purchased from German engineering giant Siemens, while the truck body is coming from Freightliner and other U.S. manufacturers. Assembly will take place at the company's research and development facility in El Segundo.
In addition to doing business with the port, Schuermann said Vision is involved in a demonstration project with FedEx and attempting to market its vehicles to cities for use as refuse trucks. It's also in talks with companies potentially interested in using them for warehouse and other work.
Holmes acknowledged that the port is pushing the envelope with Balqon and Vision.
"Our eventual goal is to encourage tax incentives and state money to get companies to purchases these vehicles," he said. "We want both Balqon and Vision to become self-sufficient and successful companies. It's not going to work if we're they're only customers."
One firm expected to receive a Balqon electric truck is California Cartage, despite its difficulties with the LNG trucks.
"We'll be using it in the short-haul range, mostly around the harbor," Curry said. "We'll just have to experiment to see how it works."
The company will keep detailed records on how far the truck can travel on a charge, how long a charge lasts when the truck is not being driven and how long it takes to recharge.
"The free truck is not really free. You're not only accumulating records all day long, but taking them in and collecting them in a book," Curry said. "Until we operate the truck to see how long the battery lives and how often it needs to be changed, I don't think we'll really know anything."
Curry said his company also would be interested in testing out a Vision truck.
For reprint and licensing requests for this article, CLICK HERE.