Taking a Plunge
Port of L.A. pushes into alternative fuel while some truckers still struggling with LNG rigs.
Monday, April 19, 2010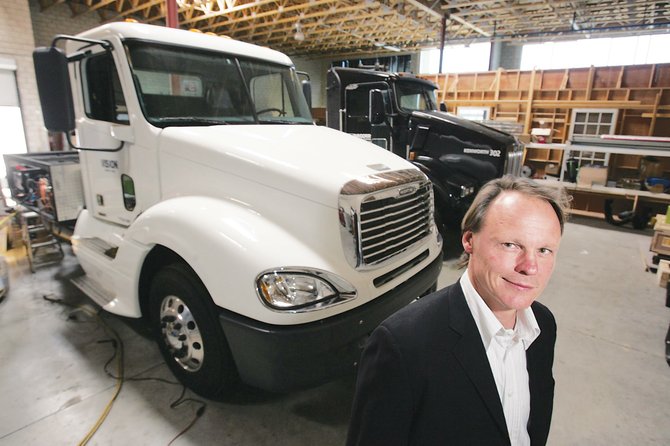 Feeling the heat of the state's controversial greenhouse gas law, the Port of Los Angeles is aggressively pursuing a program that could replace diesel rigs with exotic fuel cell trucks.
This month, the Board of Harbor Commissioners approved spending $280,000 to buy an experimental big rig – the very first sale for Vision Industries Corp., a tiny publicly traded startup in Pacific Palisades.
Equipped with a hydrogen fuel cell that recharges its electric battery, the truck is designed to carry a 40-ton load up to 200 miles before refueling. That makes it viable for midrange runs to warehouses as far away as Riverside.
The board took the action even as some port truckers are still struggling with converting from diesel to liquefied natural gas rigs, as required under the port's separate Clean Air Program targeting diesel emissions. What's more, some two dozen all-electric trucks purchased from another company have yet to be tested on the road.
Director of Operations John Holmes said the port has no choice but to push ahead with its alternative-fuel program given AB 32, the greenhouse gas law that requires the state to cut carbon emissions to 1990 levels by 2020. Many business groups are critical of AB 32 for the costs it's imposing on businesses.
"To meet those goals we have to be very forward thinking in our fleet," Holmes said. "In order to get where we need to be, we have to look beyond conventional diesel and LNG to electrical trucks. We want to demonstrate there are viable alternatives."
The hybrid electric-fuel cell truck is expected to be delivered by Sept. 1 and will initially be used to haul the Los Angeles Harbor Department's 50-foot mobile home with educational exhibits that tours Southern California.
In the meantime, negotiations are under way with several state and federal agencies – including the California Energy Commission and the federal Department of Energy – for funding to buy 20 more of the rigs, which would be leased cost free to companies working in the port for testing. It's not certain how large the port market will be for Vision, given that many trucking firms recently purchased new trucks because of the Clean Air Program.
Still, the port's decision was a coup for Vision, founded in Florida six years ago as Cheetah Consulting Inc. The company changed its name and relocated to California in late 2008 after acquiring licensing for its electric drive system and hydrogen fuel cell technology from Ice Conversions Inc., a Malibu firm.
Prev Next
For reprint and licensing requests for this article, CLICK HERE.