Pasadena-based Arrowhead Pharmaceuticals Inc. has pursued a strategy of reaching massive licensing deals with major pharmaceutical companies to take over late-stage clinical trials and seek government approvals for drugs Arrowhead originally developed from its platform.
This month, that strategy paid off handsomely. On successive days Arrowhead announced it had received $30 million and $40 million payments, respectively, from two of its licensee pharma giants after those companies achieved clinical trial milestones for two drugs Arrowhead developed to treat liver conditions.
On April 3, Arrowhead announced that it earned a $30 million milestone payment from Brentford, U.K-based GSK plc (formerly GlaxoSmithKline) for starting a Phase 2b clinical trial for a drug to treat non-alcoholic liver inflammation.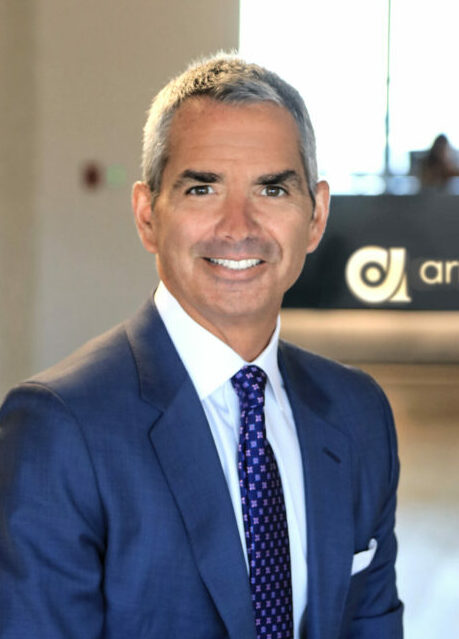 On April 4, Arrowhead announced that it earned a $40 million milestone payment from Osaka, Japan-based Takeda Pharmaceuticals for dosing the first patient in a phase 3 clinical trial for a drug called fazirsiran to treat a rare genetic disorder associated with liver disease in children and adults.
Both drugs were developed by Arrowhead using its RNA platform that silences the genes that cause a wide variety of diseases. Arrowhead has developed more than a dozen drugs from this platform and has licensed out several of those, signing collaboration agreements with GSK, Takeda, Thousand Oaks-based Amgen Inc., Brunswick, New Jersey-based Janssen Pharmaceuticals and other companies. Each licensing deal consists of a hefty upfront payment and payments when certain clinical trial and approval milestones are met.
Arrowhead Chief Executive Christopher Anzalone referenced this strategy in the announcement of the Takeda licensing deal.
"This agreement also supports our strategy of using partnering selectively to continue to invest in our Targeted RNAi Molecule platform and the growing pipeline of RNAi therapeutics targeting diverse tissue types, while focusing our commercial organization on opportunities in two key areas of cardiometabolic and pulmonary," Anzalone said.
Some issues remain
But all hasn't been rosy on the collaboration and licensing front. In February, Anzalone said in interviews that Arrowhead's $3.7 billion collaboration deal with Janssen Pharmaceuticals, a unit of Brunswick, New Jersey-based Johnson & Johnson, that was signed in fall 2018 had ended because of internal restructuring at Johnson & Johnson.
The deal with GSK was signed in November 2021 and gave GSK an exclusive license to develop and commercialize the drug to treat non-alcoholic liver inflammation in all territories except Greater China, which was retained by Arrowhead. Under terms of the deal, Arrowhead received an upfront payment of $120 million and is in line to receive future payments of up to $290 million up through the point of first commercial sale. From there, Arrowhead is eligible for up to $590 million in sales-related milestone payments.
At the time, Arrowhead Chief Executive Christopher Anzalone cited GSK's larger resources as a major reason for crafting the deal to commercialize the drug, which was then known as ARO-HSD.
"GSK has a global reach and impressive capabilities in the clinical development and commercialization of important medicines," Anzalone said. "As the work continues towards progressing further Phase 2 studies and planning Phase 3 studies for ARO-HSD, we believe this agreement with GSK furthers the potential of ARO-HSD as a promising new investigational therapeutic for patients with NASH (the non-alcoholic liver inflammation condition) and other liver diseases."
Takeda deal
The licensing deal with Takeda was signed in October 2020. Under its terms, Arrowhead and Takeda are co-developing fazirsiran, which, if approved, will be co-commercialized in the U.S. under a 50/50 profit-sharing structure. Outside the U.S., Takeda has the exclusive license to commercialize fazirsiran, with Arrowhead eligible to receive tiered royalties of 20% to 25% on net sales. Arrowhead received an upfront payment of $300 million and is eligible to receive potential development, regulatory and commercial milestone payments of as much as $740 million, of which the $40 million announced this month is one of the first payouts.
Anzalone again cited the global reach of Arrowhead's collaboration partner.
"Takeda's global presence and experience with payers and regulators in the rare disease and GI (gastrointestinal) therapy space, combined with its long history serving the Alpha-1 community, make it the ideal partner for (fazirsiran)," Anzalone said at the time of the deal announcement. "It is well positioned to work with the patient and medical community to help meet the severe unmet need of patients with Alpha-1 liver disease."
The two milestone payouts did not jolt Arrowhead investors, as the share price barely budged on April 3 and 4, staying between $25 and $26 a share. But that's down about 40% from a year ago, when the stock was trading at roughly $45 a share. Shares of small- and mid-cap biotech stocks were hit by a major selloff in the first half of last year; Arrowhead's stock has yet to recover from that.