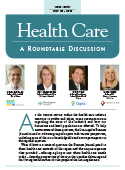 Custom Content from the Los Angeles Business Journal
---
Health Care Roundtable
As the various sectors within the health care industry continue to evolve and adjust, many questions remain regarding the state of the industry and how our businesses and local population are affected. To help answer some of those questions, the Los Angeles Business Journal turned to a diverse group of experts with various perspectives, including some of the most knowledgeable and active participants in the regional equation. What follows is a series of questions the Business Journal posed to these health care stewards of the region and the unique responses they provided – offering a glimpse into where health care stands today – from the perspectives of those in the trenches delivering and facilitating health services for the people of the Los Angeles area.
For the Roundtable Discussion
Click Here.
---
Inside this supplement:
A Holistic Approach: New Trends in Teeth Straightening
Self-improvement is always a hot topic, and teeth-straightening is one health-related trend getting stoked by opposing forces. On one side are sellers of plastic aligners pouring hundreds of millions of dollars into consumer advertising pitching the convenience of DIY therapy. On the other side are members of the orthodontic industry… Read More
---
New Technology Provides Hope for ESRD Patients
Last month at the Society for Vascular Surgery's 2019 Vascular Annual Meeting, vascular surgeon Alexandros Mallios, M.D. of Institut Mutualiste Montsouris of Paris, France presented his two year experience performing non-surgical creation of AV fistulae utilizing the FDA cleared Ellipsys Vascular Access System from Southern California based Avenu Medical… Read More
---
Sleeping with Artificial Light May Cause Weight Gain
Sleeping with a television or light on in the room may be a risk factor for gaining weight or developing obesity, according to scientists at the National Institutes of Health. The research, which was published last month in JAMA Internal Medicine, is the first to find an association between any exposure to artificial light at night while sleeping and weight gain in women… Read More.
---
Study Shows Short Breaks Promote a Healthier Brain
In a study of healthy volunteers, National Institutes of Health researchers found that our brains may solidify the memories of new skills we just practiced a few seconds earlier by taking a short rest. The results highlight the critically important role rest may play in learning…. Read More.