Mid-Year Economic Forecast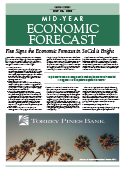 Custom Content from the Los Angeles Business Journal
---
Inside this supplement:
Five Signs the Economic Forecast in SoCal is Bright
If you're a business owner, one of your main focuses is always steered toward what is happening in the economy. Whether it's on a national, regional, or local level, the economy will have an impact on your business and your employees. Here are five signs the economic forecast in SoCal is bright...
Read More
---
UCLA Anderson Forecast Shares Challenges Ahead
Last month, in its second report for 2019, the UCLA Anderson Forecast offered new recession predictions based on the most recent GDP data and the most recent bond market data. While the U.S Department of Commerce's release of a 3.1% growth rate for GDP in the first quarter was celebrated as evidence there is no recession in the near future, a closer look at the details behind that 3.1% number leaves less reason for celebration...
Read More
---
CPAs Believe Complex Financial Instruments Pose Risks
Financial instruments are a growing presence on company balance sheets, and business executives say more market awareness is needed to prevent another financial crisis, according to a recent survey by the American Institute of CPAs (AICPA)...
Read More
---
Executive Outlook Holds Steady After Earlier Decline
Concerned about the outlook for both the U.S. and global economies, business executives have revised expectations downward for a number of categories that impact their companies, according to the second-quarter AICPA Economic Outlook Survey released last month...
Read More
---