Resale Readies for its Closeup
RETAIL: Secondhand luxury market set to double
Friday, June 14, 2019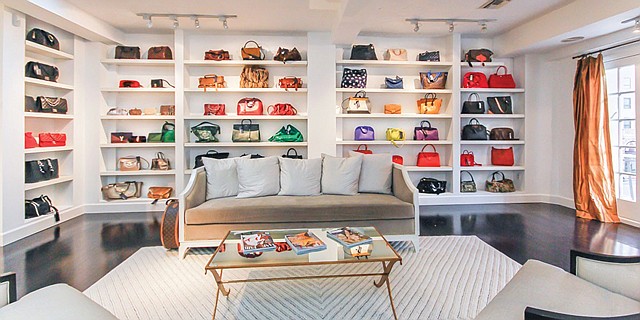 With $16,000 lemon-colored Birkin bags and $2,000 studded Dior clutches, Fashionphile's sleek white Beverly Hills showroom tucked near Rodeo Drive doesn't look like what it is: a secondhand store.
There's nothing musty about the secondhand luxury market, which is in the midst of a major makeover driven by ecommerce. Companies such as RealReal Inc., Poshmark Inc. and 1stdibs.com Inc. have opened up the world of used fashion for the mass market. Budget and eco-conscious consumers can click through virtual racks while in pajamas instead of traveling to a consignment store to comb through the aisles.
In the next five years, the secondhand apparel market is expected to double sales to $51 billion, according to resale marketplace ThredUP Inc.
Growing consumer interest and rising sales have drawn the attention of traditional luxury retailers. In April, Neiman Marcus Group Inc. announced it was acquiring a minority stake in Southern California-based Fashionphile, one of the first major luxury purveyors to invest in the fast-growing pre-owned market.
San Francisco-based RealReal is planning an initial public offering for its luxury consignment business.
And there's been a flurry of gently used luxury retailers like New York-based Rebag, owned by online site Trendly Inc., popping up across Southern California and online.
"We are growing up," said Sarah Davis, founder at Fashionphile, who started selling used clothes on eBay while going to law school in 1999. These days, she's hammering out the details for the Fashionphile stores slated to open in Neiman Marcus locations this summer.
A business model grows up
Like many resellers, Davis started out making individual sales of pre-owned and gently-used items on eBay Inc.'s website as a way to make extra money. "I never thought of myself as a businessperson," she said. "I thought business was men in suits."
But she found the sales addicting and slowly gained a steady clientele. She moved to Beverly Hills from Maryland in 2006 and partnered with her brother-in-law Ben Hemminger, operating out of a guesthouse across from the Beverly Hills Hotel.
In 2008, she opened up her first shop there, then another in San Francisco selling high-end bags and accessories.
Fashionphile has added two more locations in Carlsbad and New York City. In 2012, Davis relocated the headquarters from Beverly Hills to a 30,000-square-foot warehouse in Carlsbad, which she calls "the Willy Wonka factory for handbags."
Fashionphile's inventory consists of 14,000 pieces, and the company employs 146 people, mostly in its Carlsbad warehouse and offices in Los Angeles. Last year, sales grew 50%, only 2% of those transactions were in stores. Davis said the company is on track to do $200 million in sales this year.
For reprint and licensing requests for this article, CLICK HERE.
Prev Next