Los Angeles Convention Center Installs Permanent 5G Network
Wednesday, September 26, 2018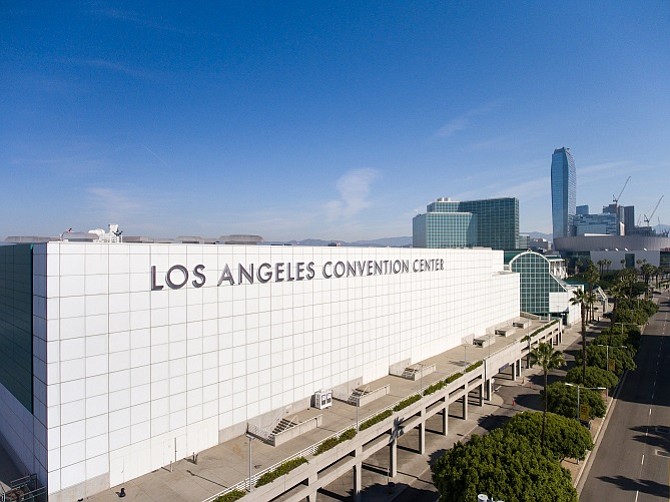 The Los Angeles Convention Center just added 5G capabilities to its growing list of offerings designed to draw business to downtown.
Announced Sept. 25, the new 5G network was deployed officially on Sept. 12, in time for the Convention Center's three-day GSMA Mobile World Congress Americas event.
"It's a big get for us in Los Angeles, and something we've been working on for a long time," said Director of City of Los Angeles Department of Convention and Tourism Development Doane Liu. "Mobile carriers are announcing a lot of 5G products; they wanted to have 5G installed at the convention center in time for the (Mobile World Congress Americas) show they had last week."
5G according to Liu is important "primarily so that we can get the high-end technology conventions, namely Mobile World Congress, the premier world-class technology show that we want here, but it will benefit regular clients" such as the Electronic Entertainment Exposition (E3) and the Los Angeles Auto Show, which rely increasingly on fast wireless speeds.
Liu reported the 5G network was installed and paid for by mobile carriers Sprint Corp., AT&T Inc., T-Mobile US Inc. and Verizon Communications Inc., all of which pay monthly rent to operate antennas at the Convention Center. Liu declined to disclose the specific costs of 5G installation and mobile carriers' monthly rent, stating that AEG Facilities Inc. which operates the Convention Center, has not provided the Convention Center with that information.
"The 5G installation will be the legacy of MWCA at the Los Angeles Convention Center," Ellen Schwartz, general manager of the LACC, said in a statement. "In addition to 5G, approximately 100 new antennas have been connected in the facility. All 4G LTE networks have been upgraded, bringing the best in wireless to future events held at our convention center," Schwartz said.
5G is the latest iteration of wireless internet and voice services and designed to improve the current standard of 4G LTE networks by increasing wireless speeds and moving data faster. Most companies with devices capable of connecting to the 5G networks are expected to begin selling them to the public late 2018, Liu told the Business Journal.
"5G will be a benefit to all the technology firms, but even others like medical devices, medical shows, and Internet of Things-type companies are going to be reliant on it," said Liu. "Eventually every convention center will have 5G, but it's with great pride that we're the first, and I think this is in keeping in the mayor's goal of being No. 1 digital city in America," Liu added.
Tech reporter Samson Amore can be reached at samore@labusinessjournal.com or (323) 556-8335. Follow him on Twitter @samsonamore.
For reprint and licensing requests for this article, CLICK HERE.