2018 ICONS | Iconic Overview: L.A. Goes Global
Entrepreneurial spirit finds way here, looks beyond backyard for opportunities
Friday, May 25, 2018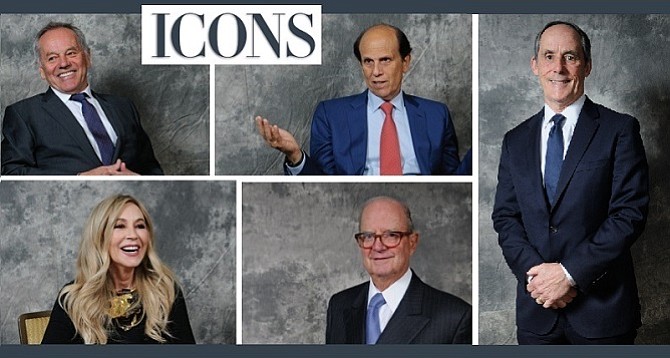 Now, he said, the interaction with China is a two-way street: Cedars-Sinai's research division is using China as a market for clinical trials. And Cedars is partnering with a company in China to improve hospital operations in China.
"It's all about increasing globalization in health care and L.A. as a significant player in the world market, especially in Asia," he said.
Milken, reprising his role as an icon, tied L.A.'s role in the global marketplace to global demographic trends and citing a competition for human capital as the defining challenge of this century.
He noted that of the 421 scholarships handed out since 1989 by the Milken Scholars – a joint initiative of the Milken Institute and the Milken Family Foundation – 108 have been to students outside the U.S.
And he showed a chart in which Los Angeles has the largest populations of more a dozen nationalities outside their home countries.
"Los Angeles is a true melting pot of the world," he said. "Whether it's El Salvador, whether it's Indonesian, wherever it might be, these large populations have come to our city."
California critique
L.A's continued rise as a global city isn't a given, according to several of the honorees who issued critiques of the state's business climate as a factor that is holding the city back from reaching its full potential.
Cushman gave the most pointed and extended remarks on the issue:
"Taxation at the state level is a killer, as are the anti-business policies coming out of Sacramento," he said. "About 10,000 companies have left California in recent years. Gov. (Greg) Abbott from Texas comes to places like the Montage Hotel and picks off our businesses…We have to turn this around."
For reprint and licensing requests for this article, CLICK HERE.
Prev Next