UPDATE: Bankrupt Breitburn Energy Partners Rejects $1.8B Offer
Sunday, February 4, 2018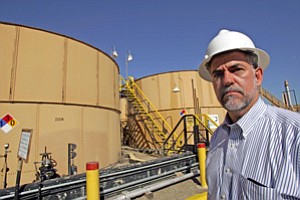 Editors' note: On Feb. 12, Breitburn rejected the unsolicited $1.8 billion offer from Lime Rock Resources, according to court documents.
A Houston energy fund has made a $1.8 billion cash offer for the assets of bankrupt L.A.-based Breitburn Energy Partners, according to a document filed late Feb. 2 in U.S. Bankruptcy Court in New York.
The all-cash offer, contained in a letter filed by Breitburn with the court, is from Houston-based Lime Rock Resources, a private equity fund that specializes in oil field acquisitions. In its filing, Breitburn through its attorneys said it had given Lime Rock until March 9 to complete its due diligence.
Breitburn filed for Chapter 11 bankruptcy protection in May 2016. It was hit by bad timing, incurring more than $2 billion in debt to make a major oil field purchase in July 2014, just three months before oil prices began a prolonged collapse.
Lime Rock's offer exceeds the $1.6 billion valuation of the company in the bankruptcy reorganization plan that Breitburn submitted to U.S. Bankruptcy Court Judge Stuart Bernstein in November. That plan calls for the company to be split into two entities, one funded with a $775 million rights offering from a group of unsecured creditors and comprising Breitburn's most prized assets in the West Texas Permian Basin, and the other including Breitburn's other oil field assets in California, the Rocky Mountains and the northern Midwest. (For more, see Breitburn Bankruptcy Exit Plan Could Split Company in Two.)
Shareholders and some creditors have strongly opposed this plan, saying it undervalues the company by more than 50 percent and would leave shareholders with no return on their investments and substantial tax liabilities. They want Breitburn's assets tested on the market through an open bidding process. (For more, see Shareholders Pan Breitburn.)
In his bid letter to Breitburn Chief Executive Halbert Washburn, Lime Rock Resources' Co-Chief Executive Eric Mullins stressed the straightforward nature of his company's bid:
"We believe that our proposal may bring more value to stakeholders than what has been proposed and will do so more promptly," Mullins said in the letter.
Judge Bernstein has set March 29 as the next hearing date in the Breitburn case.
Economy, education, energy and transportation reporter Howard Fine can be reached at hfine@labusinessjournal.com. Follow him on Twitter @howardafine.
For reprint and licensing requests for this article, CLICK HERE.