CULTURAL LEADERS TOUT PACIFIC STANDARD TIME EVENT AS FINANCIAL PLUS.
Hanging in L.A.
Friday, September 8, 2017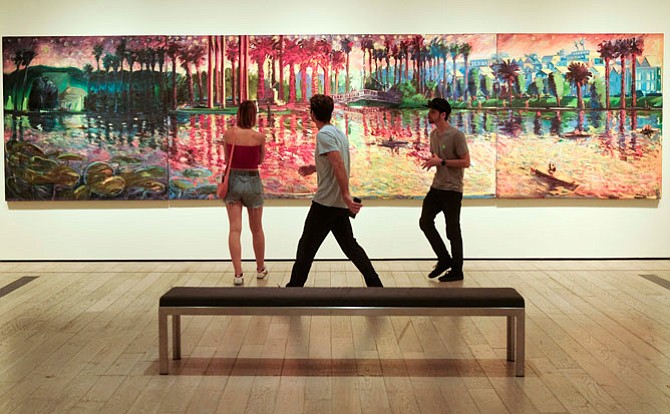 It's Pacific Standard Time again.
No, that's not a reminder to set your clocks forward for the end of daylight saving time – hold off until November for that.
This is about the launch of the second Pacific Standard Time project, a collaboration of more than 70 Southern California cultural institutions, supported by grants from the Getty Foundation.
The new incarnation, titled "Pacific Standard Time: LA/LA," will launch Sunday with a range of community events, including one-day free admission to 50 museums. The event will explore the connection between Latin American and Latino art and the deep ties both have to Los Angeles. Events and exhibitions will continue through January.
The first initiative, "Pacific Standard Time: Art in L.A. 1945-1980," with six months of exhibitions and events between October 2011 and March 2012, explored the history of art and architecture created in Los Angeles during the postwar period.
L.A.'s arts leaders are hailing Pacific Standard Time 2.0 as another chance to contribute to arts scholarship as well as educate the community about an integral aspect of local culture.
The event is also an economic driver with business and arts leaders expecting increased financial benefit.
Out and about: PST venue sampling
Golden Kingdoms: Luxury and Legacy in the Americas
International exhibition tracing the history
of luxury arts in the Americas.
Sept. 16-Jan. 28
Getty Center, Brentwood
ProyectusLA
A fair-exhibition hybrid featuring work representing 20 galleries from Central, South and North America.
Sept. 16-Oct. 28
Werkartz space, downtown
La Raza
Photographic archive of La Raza, the L.A. newspaper central to the Chicano Rights Movement of the 1960s-'70s.
Sept. 16-Feb. 10, 2019
Autry Museum of the American West, Griffith Park
Pacific Standard Time: Live Arts LA/LA Festival Performance art.
Jan. 11-21
REDCAT (Roy and Edna Disney/
CalArts Theater), downtown
A Getty-commissioned study of the first PST from the Los Angeles Economic Development Corp. details $280.5 million in economic output generated by the event. The study says that the first PST supported 2,490 jobs for its six-month run, with total labor income of $101.3 million. The activity was estimated to have added $19.4 million in tax revenues for state and local governments.
The report also states that 1.8 million visitors participated in exhibitions across the region.
"The primary goal of both Pacific Standard Times was, and is, to leave behind a legacy of scholarship," Joan Weinstein, deputy director of the Getty, said in an e-mail.
"Given the ambitious scale of the exhibitions and programs, though, there are undoubtedly ripple effects in local businesses, from design firms that work with the museums to local restaurants and shops," Weinstein added. "Although it is always difficult to measure, we hope 'PST: LA/LA' will generate even greater impact."
Prev Next