Billionaires Bloom in Big Year
Monday, May 15, 2017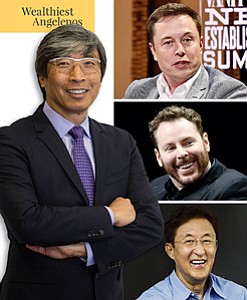 It was a good year to be a billionaire in Los Angeles.
There are 58 of them on the Business Journal's 2017 Wealthiest Angelenos list, led once again by Patrick Soon-Shiong, and they control a combined $203.4 billion. That's more than twice the value of Walt Disney Co.'s 2016 assets. The average net worth of the people on the list is $3.51 billion, compared with $3.44 billion last year.
Overall, L.A.'s super elite increased their aggregate holdings by 18.2 percent during the past 12 months. That's a huge premium on the aggregate wealth increase seen in all U.S. households, which climbed to $92.8 trillion from $87.3 trillion last year – just a 6.3 percent gain – according to Federal Reserve Bank data.
While this is good news for the bottom line of the billionaire class, at least one member of the list said the decades-long trend toward greater wealth inequality is a problem, albeit one without an easy solution.
"Inequality comes from somewhere; it's not as simple as someone made a lot of money and someone did not," said Nicolas Berggruen, whose $1.9 billion put him No. 36 on the list. "It stems from access to opportunity. So how do you change that? Is it taxes? Is it education? Is it wages?"
The question of wealth distribution is part of a larger debate for Berggruen about the evolving challenges faced by democratic society – a debate he's put $500 million on the line to address through an endowment for his Berggruen Institute. The think tank, which is planned for a $45 million property in the Santa Monica Mountains, is part of the Paris-born investor's plan to encourage deep thinking about complex problems – and he gives out a yearly $1 million philosophy prize to reward it.
But some economists, concerned the issue is reaching an inflection point, are encouraging swifter action. Christopher Thornberg, a founding partner of Beacon Economics, said the growing wealth gap could soon destabilize the market.
"A massive imbalance in assets like we have right now can create huge political upheaval and impact the economy's ability to function properly," he said. "It would behoove the federal government to mitigate this trend, but, contrary to that, President Donald Trump seems intent on expanding the wealth gap."
From a practical perspective, the outsized performance of the uber wealthy's holdings is fairly simple to explain, according to Merrill Lynch Private Wealth Management's Richard Jones.
Prev Next