Delta to Lead 24 Airline Relocations to New Terminals at LAX
Up, Running
Friday, March 17, 2017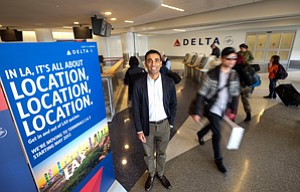 Call it "Airmageddon."
Over a four-night stretch in May, 24 airlines are planning to switch terminals at Los Angeles International Airport in what is believed to be the most extensive such relocation ever attempted at operating terminals at a U.S. airport.
While airline and airport officials said there will be no shutdowns, they are nonetheless planning a major outreach effort to travelers and transport services in the hope that, like the 405 freeway "Carmageddon" episode a few years back, it all goes without a hitch.
The linchpin for this massive relocation is Delta Air Lines, which is moving its operations from Terminals 5 and 6 to Terminals 2 and 3 as part of the Atlanta-based airline's $1.9 billion expansion and modernization plan at LAX that features a complete makeover of Terminal 3. Delta has tripled the number of departures from the airport over the last decade, straining its current accommodations.
"We've grown more than any other airline here at LAX," said Ranjan Goswami, Delta's vice president of sales, western division, who is responsible for overseeing the shift.
The company's move will initiate a chain reaction of other airline relocations. Most of the 21 airlines now in Terminals 2 and 3 will be displaced, forcing them to move to other terminals. That in turn will force relocation of part or all of several airline operations at other terminals.
In all, six of the airport's nine terminals will be involved as two dozen airlines relocate some or all of their operations. Among the other airlines affected besides Delta: Aeromexico, Air Canada, Alaska, American, Copa, JetBlue, Spirit and Virgin Atlantic.
Delta will be footing the bill for almost all of the relocations, which the airline estimates will cost $60 million.
"An airline relocation of this scope has not been done anywhere as far as I know," said Michael Boyd, president of Aviation Planning Consultants in Denver. "This is taking an operating airport and moving 20-plus airlines while the place is alive and pulsing."
While single airlines have moved into newly renovated terminals at other airports, rarely has that involved the relocation of multiple airlines. There have been cases where airports have opened that have involved airline relocations – such as Denver International Airport 22 years ago – but Boyd said those moves were much simpler, since the infrastructure was set up before the airline personnel moved. At LAX, it will all be done simultaneously.
Prev Next