Peter Guber Sues Insurance Broker Over Lost Roman Sculpture
Thursday, March 2, 2017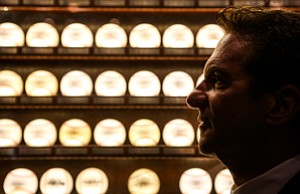 Peter Guber has literally lost his head.
That's according to a lawsuit filed Thursday in Los Angeles Superior Court, which details the billionaire sports and entertainment magnate's quest for an insurance payout covering the loss of a "multi-million dollar antiquity known as the Bronze Roman Head of Lucius Aelius Verus as Caesar."
The lawsuit claims that Guber's longtime insurance broker, Santa Monica's Abacus Insurance Brokers Inc., left him holding the bag after failing to properly insure the piece of art. Guber, who is a co-owner of the Los Angeles Dodgers and Golden State Warriors and has produced movies such as "Batman," is asking for more than $2 million to cover his losses and legal fees related to the bronze bust.
Both Guber and Abacus President Leon Lewin did not immediately respond to request for comment.
The saga of the sculpture stretches back to 2008 when Guber began purchasing a collection of what would ultimately be 84 ancient Greek coins, which he insured at a value of $2.8 million. Guber consigned the coins to Robert Freeman, a partner at Santa Monica antiquities dealer Freeman & Sear. After struggling to sell the coins, Freeman suggested a trade to Guber, who agreed to exchange 42 coins for the bronze Roman head in April 2012, according to the lawsuit.

But after the trade was finalized and insurance documents were drawn up, the suit claims the bust of Lucius Aelius Veru, which remained for sale through Freeman & Sear, became part of an elaborate shell game. Instead of attempting to sell the artifact, Freeman used it as collateral to secure several personal loans and ultimately sold it to another dealer, the lawsuit alleges.
Guber pursued legal action against Freeman in 2014, but he ultimately dropped the lawsuit and tried to recoup his losses through the insurance company. The suit alleges that Guber was stymied on this front as well because Abacus, which handled the policy relating to the coins and the Roman statue, failed to acquire the proper coverage and assert timely claims.