TV: UNIVISION, TELEMUNDO GO WITH MODERN, EDGY FARE TO DRAW YOUNGER U.S. LATINOS.
Spanish-Language Broadcasters Signal Focus Shift
Friday, June 30, 2017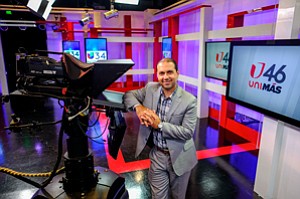 A ratings battle between L.A.'s Spanish-language television stations highlights the broadcasters' attempts to retain millennial Latinos viewers, who often are lured away by more mainstream English-language fare.
TV executives said young bilingual Latinos are not necessarily looking to watch entertainment in English, but crave more modern stories and formats – often about life in the United States – compared to the nostalgic tales that might appeal more to their immigrant parents or grandparents.
"Whatever we're programming in the United States has to be a lot more culturally relevant," said Luis Patino, president of Univision Los Angeles. "The audience is in many cases bilingual and bicultural, and wants to watch more good content."
The war for viewers has become particularly intense in recent weeks between Univision Communications Inc. stations KMEX (Channel 34) and KFTR (Channel 46), known as UniMás, and Telemundo station KVEA (Channel 52).
What happens in this local battle is of prime importance to both companies because Los Angeles ranks as the No.1 Hispanic television market, according to Station Index broadcasting information guide.
Nielsen's May sweeps rating period brought good news for KMEX and KFTR, both of which are based out of Univision's Westchester office. KMEX ranked No. 1 among all L.A.-area stations, regardless of language, among 18- to 49-year-olds in prime time with an average of 90,000 viewers, according to Univision. KFTR ranked No. 2 with an average of 68,000 viewers.
Patino said the May sweeps represented a major prime-time programming shift away from old-fashioned telenovelas to shorter series.
Both Univision and Telemundo are forging partnerships with global entertainment companies as part of that shift in fare focus.
KFTR's first-time move into the No. 2 slot, beating KABC (Channel 7), was in part fueled by a ratings infusion from the historical series "Moises y los Diez Mandamientos," or "Moses and the Ten Commandments," a lavish drama produced by Brazil's Rede Record TV network. KFTR aired two seasons of the popular series back to back from July 11, 2016, to June 12.
Rede Record also produced Univison's series "Jose de Egipto," (Joseph of Egypt), which is airing now.
While the story of "Moises" is timeless, the network is also aiming to produce more shows about the here and now. For example, Univision's "Vino El Amor," a series about an immigrant family in Napa Valley, premiered in October.
Univision has also made a push onto online streaming networks as a way to increase brand awareness among millennials. The high-profile series "El Chapo," about the infamous drug kingpin, premiered on Univision in April with episodes debuting on Netflix last month. Netflix co-produced the series with Univision Story House, an L.A.-based unit launched last year to create content in both English and Spanish for the company's networks and others.
Prev Next