TRANSIT: STATION WORK SLATED FOR GOLDEN TRIANGLE
Subway Might Deliver Beverly Hills 9021 Uh-Oh!
Friday, June 16, 2017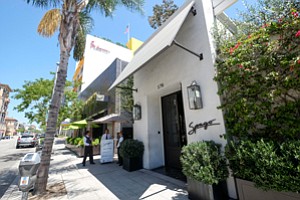 Subway construction is about to begin in the heart of Beverly Hills, where resistance that lasted for decades has been supplanted by mounting concerns from the swanky shops, restaurants and hotels that make up the city's famed Golden Triangle.
The Los Angeles County Metropolitan Transportation Authority and Southern California Edison plan to start digging up Wilshire Boulevard, Canon Drive and other nearby streets as early as next month – the beginning of utility relocation work with a time line of up to 18 months. Work on the station itself is slated to begin in late 2019 and last until mid-2024.
"Any business located near where Rodeo, Beverly and Canon drives meet Wilshire Boulevard should be very concerned about the impact this project is going to have," said Beverly Hills Chamber of Commerce Chief Executive Todd Johnson. "And if there are any businesses that aren't concerned, that in and of itself should be cause for alarm."
Station disruption
The main focus of the next seven years of construction will be the preparation for and excavation of the Metro Purple Line Wilshire-Rodeo subway station. It is a key component of the second phase – from the eastern edge of Beverly hills to Century City – of the 9.5-mile Wilshire subway extension.
A joint venture led by Sylmar-based Tutor Perini Corp. earlier this year won the prime contractor bid on the $1.4 billion second phase, which includes the Wilshire-Rodeo station and another station on Constellation Boulevard in Century City.
Actually, the Wilshire-Rodeo station name itself is now a misnomer. When originally planned a decade ago, the station was to be at that famed intersection; but three or four years ago, after input from Rodeo businesses and Beverly Hills officials, Metro planners moved the station location two blocks to the east. It is now planned to stretch under Wilshire from Beverly to just east of Canon. The station entrance will be at the southwest corner of Wilshire and Reeves Drive, on the site of the former Ace Gallery building – the gallery relocated to the Miracle Mile last fall – that is set for demolition in coming months.
The shift east means businesses and tourist attractions on Rodeo will be spared the main thrust of the disruption wrought by the construction. The brunt will now fall on famed Spago Restaurant, adjacent Citizen Restaurant, the nearby Montage Hotel and other businesses near where Canon meets Wilshire.
Prev Next