2016 Container Traffic Up at Port of Los Angeles, Down at Port of Long Beach
Wednesday, January 11, 2017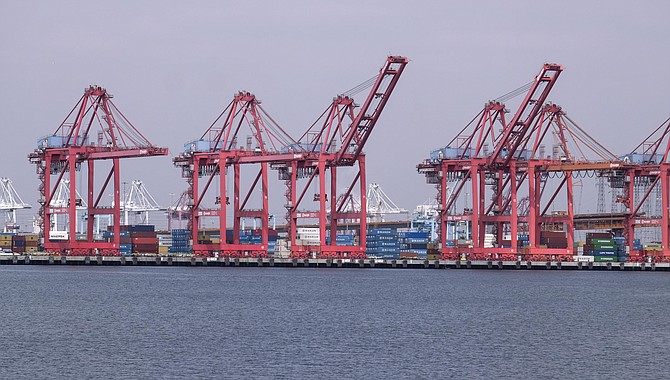 For 2016, it was a tale of two ports when it comes to container cargo traffic.
Last year, the Port of Los Angeles logged record container levels, with nearly 8.9 million container units passing through the port, up 8.5 percent over 2015 and eclipsing the 2006 record of nearly 8.5 million container units.
December was particularly strong, at nearly 800,000 container units, a 27 percent jump from December 2015. Imports rose nearly 23 percent to 394,000 container units, while exports shot up nearly 26 percent to 165,000 container units.
But it was a completely different story at the Port of Long Beach, where cargo traffic fell 5.8 percent last year to nearly 6.8 million container units.
December was even weaker, falling 8 percent from the previous December as only 549,000 container units moved through the docks. Imports dropped 8 percent, exports slipped 2.5 percent, and empty container traffic plunged 11 percent.
The biggest reason for the split in fortunes at the two ports was the Aug. 31 bankruptcy of Hanjin Shipping. Hanjin was a majority stakeholder at the Port of Long Beach's largest container terminal. Much of Hanjin's cargo went to other shipping lines that have agreements to call on the Port of Los Angeles, not Long Beach, resulting in a massive diversion of cargo.
The Port of Long Beach was also negatively impacted by other mergers between ocean carriers, according to Long Beach Harbor Commission President Lori Ann Guzman.
By year's end, the Harbor Commission had approved an agreement for a subsidiary of Mediterranean Shipping Co. to take over the long-term lease at the terminal formerly home to Hanjin.
"As the new year starts, we are grateful to be able to put the Hanjin bankruptcy behind us," Port of Long Beach Interim Chief Executive Duane Kanagy said in a statement.
While the Port of Los Angeles was the beneficiary of the turmoil in the shipping industry, port officials also credited the cargo increase there to recent initiatives to improve the flow of cargo through the docks.
"I salute our industry stakeholders and thank Mayor Eric Garcetti and the policymakers and agencies at the state and federal level that have supported our various supply chain optimization initiatives over the past year," Port of Los Angeles Executive Director Gene Seroka said in a statement. "To handle this much volume with minimal issues is an extraordinary accomplishment and demonstrates our capability-building efforts here in the San Pedro Bay complex."
Public policy and energy reporter Howard Fine can be reached at hfine@labusinessjournal.com. Follow him on Twitter @howardafine.
For reprint and licensing requests for this article, CLICK HERE.