A LOOK AHEAD: WHAT'S ON THE AGENDA FOR LOS ANGELES BUSINESS IN THE COMING WEEK
DWP, city of L.A. draft plan to speed water, power hook-ups.
Friday, January 6, 2017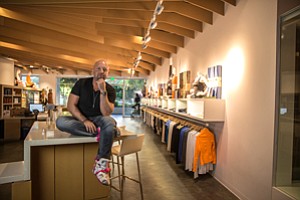 Seth Manheimer sure wishes the "bill of rights" for customers of the Los Angeles Department of Water and Power that will be voted on Jan. 17 had been around a year ago when he was trying to open a yoga studio in Hollywood.
Manheimer faced about a month of delays in getting the studio on La Brea Avenue south of Hollywood Boulevard connected to water and power service. As a result, he had to push back the grand opening of Set and Flow Yoga.
"It was just several weeks of problems and bureaucratic inefficiency," Manheimer said. "I host 165 yoga classes a week and lost tens of thousands of dollars because I could not open the business when originally planned."
If the customer bill of rights had been in effect, with its promise of new small-business hookups within 10 business days, Manheimer said it might have spurred a quicker response from the department and allowed those thousands of dollars in revenue to flow more quickly.
That package of commitments was unveiled last week by Los Angeles Mayor Eric Garcetti and DWP Commission President Mel Levine as an attempt to bolster the massive agency's credibility after a fiasco three years ago, when a billing system was launched that resulted in customer overcharges and delays in service. Garcetti campaigned for mayor on a promise to reform the department's service and oversight.
Initially presented to the DWP Board of Commissioners last week, the absence of some members prompted the board to delay consideration until the Jan. 17 meeting.
While most of the service commitments and guarantees are aimed at residential customers, two provisions specifically target small-business customers and residential solar rooftop customers.
The small-business provision requires that new service connections of 200 amps or less be completed within 10 business days after an approved final inspection or the business customer will receive a $25 credit.
"Businesses that are building new facilities or remodeling existing facilities measure DWP's performance by how long it takes to get the service required," Gary Toebben, chief executive of the Los Angeles Area Chamber of Commerce, said via email. "Guaranteeing new service for small businesses within (10) days has the potential to be very helpful."
But Toebben said the guarantees should apply to all new business service connections, not just small businesses.
Meanwhile, solar panel installation companies could see their wait times for interconnections for residential projects drop under a separate guarantee of 10-day approval.
Kevin Bauer, chief executive of American Solar Direct, which moved three months ago from Brentwood to Anaheim, said delays in DWP's processing of solar interconnections has made his company cautious about signing up customers in the city of Los Angeles.
"This will allow us to boost our marketing activity in Los Angeles DWP territory," he said.