Historic Angels Flight Railway Reopens
Thursday, August 31, 2017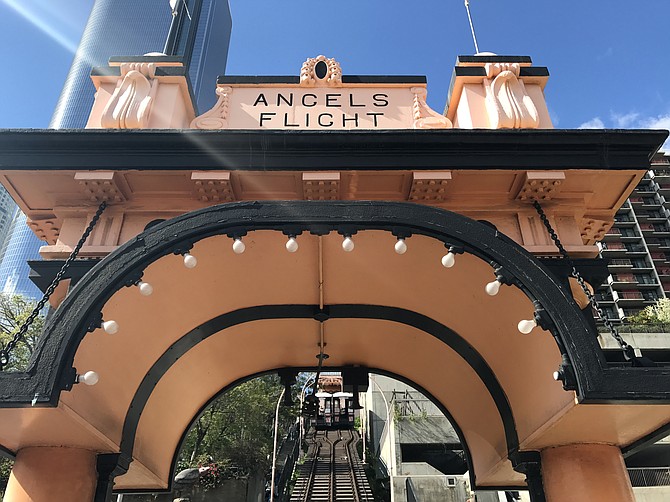 The historic Angels Flight funicular railway connecting downtown's Bunker Hill with the Hill Street/Broadway corridor reopened Thursday morning after a three-year closure for repairs following a pair of accidents.
The funicular, which claims the title of the world's shortest railway at 298 feet, was originally built in 1901. It descends from Olive Street behind California Plaza to Hill Street, connecting the office towers on Bunker Hill with the Grand Central Market neighborhood.
Los Angeles Mayor Eric Garcetti presided over the reopening and was among the first to board the funicular.
"Angels Flight is so much more than a railway," Garcetti said in a statement. "It's a bridge to our history, and a window into countless moments of joy and wonder that have helped shape L.A.'s story for more than century. I am grateful to our partners, who had the vision and persistence to bring this treasure back to the people of our City, and I look forward to sharing it with the world for generations to come."
The original funicular ran until 1969 when it was shut down and dismantled for the redevelopment of Bunker Hill. A completely rebuilt Angels Flight opened in 1996. A serious accident in 2001 that claimed the life of a passenger forced the railway to shut down. After a lengthy investigation and alterations, it reopened in 2010. But a derailment in 2013 forced another shutdown.
The nonprofit Angels Flight Railway Foundation then raised funds to make more improvements. Also, momentum to reopen the funicular picked up after it was featured in the Oscar-nominated film "La La Land." The improvements received approval from the California Public Utilities Commission earlier this year.
One-way fare costs $1, or 50 cents if riders have a Metro TAP card.

Public policy and energy reporter Howard Fine can be reached at hfine@labusinessjournal.com. Follow him on Twitter @howardafine.