Broad Museum Smashes Attendance Projections in First Year
Tuesday, September 20, 2016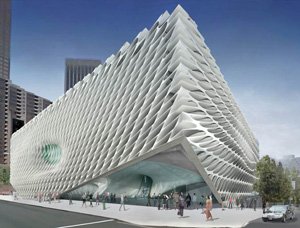 Editor's note: An earlier version of this story had incorrect attendance numbers for the Los Angeles County Museum of Art and used a disputed report provided by the Broad to rank the museum's attendance among U.S. museums.
Downtown's Broad Museum of Contemporary Art had a banner inaugural year, drawing in more than 820,000 visitors, according to figures the museum released Tuesday.
The attendance total of 823,216 tripled pre-opening projections and placed the Broad among the top U.S. art museums for annual visitors, museum officials said in a news release.
Despite the spectacular opening year, the Broad still trails the county's two leading museums in attendance: the Los Angeles County Museum of Art reported 1.4 million visitors in its most recent fiscal year, and the two Getty museum campuses, the Getty Center and Getty Villa, drew a combined total of over 2 million visitors, according to the Getty website.
The $140 million Broad museum opened a year ago Tuesday to house the 2,000-work postwar and contemporary art collection of billionaire philanthropist Eli Broad and his wife Edythe. The museum has made significant inroads in its first year, boosted by its free general admission, a bold architectural design, and several special exhibitions, including most recently the works of artist Cindy Sherman. Entry lines have frequently snaked around the block.
"Edye and I could not be more delighted with the public reception to the museum," Eli Broad said. "Our goal has always been to share our art with the broadest possible public, and our first year has exceeded all of our expectations."
The Broad, next door to the iconic Disney Concert Hall and across the street from the Museum of Contemporary Art and the Colburn School of Music, has also helped push downtown's Grand Avenue into the region's main arts destination.
Breaking down the attendance figures, 62 percent of visitors to the Broad identified their ethnicity as other than Caucasian, compared with a national art museum average of 23 percent, according to the 2015 National Art Museum Benchmark Report from Morey Group. The average visitor was 33 years old, 12 years younger than the national art museum average. The museum also drew a large family audience, with 17 percent of parties including children, compared to the national art museum average of 11 percent. And more than 80 percent of museum visitors said they had little knowledge of contemporary art.
"Introducing a younger generation to contemporary art was one of our primary goals," said Founding Director Joanne Heyler. "Our numbers show that we've been able to connect with a generation of Angelenos and visitors from around the world who may now appreciate culture and art for many decades."
Public policy and energy reporter Howard Fine can be reached at hfine@labusinessjournal.com. Follow him on Twitter @howardafine.
For reprint and licensing requests for this article, CLICK HERE.