POLLUTION: PARTICIPATING FIRMS FEAR LOSING CREDITS WORTH MILLIONS OF DOLLARS.
Cap-Trade's Future Looks Cloudy
Friday, November 4, 2016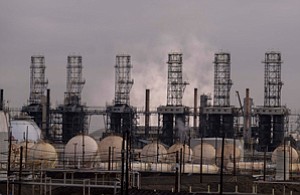 Local manufacturers, aerospace companies, oil refineries, and power plants have been buying and selling credits in one of the nation's oldest cap-and-trade pollution control programs for more than 20 years.
Now, local smog regulators are considering scrapping the market-based program, known as Reclaim, and returning to more traditional regulation. The South Coast Air Quality Management District is facing increased scrutiny from federal and state air regulators along with a legal challenge from a coalition of environmental groups seeking to shut down the program who say it doesn't achieve pollution reductions required by the state.
The possibility that Reclaim could be shut down is causing concern among many of the 272 industrial facility operators who fear increased costs and watching their investment in credits evaporate.
"We think it would be very counterproductive to dismantle Reclaim," said Michael Carroll, a partner in the Irvine office of downtown L.A. law firm Latham & Watkins, which represents about a dozen of the largest participating companies in the program, including several major oil refineries in Los Angeles County. "Shutting the program down would especially hurt those facilities whose operators chose to buy credits or chose other methods to reduce emissions."
Air district officials made public the possibility of scrapping the program last month. The first official step in the process could take place in February, when the district's 13-member governing board is set to consider an updated air quality management plan that includes the Reclaim shutdown option.
Even if the board decides to move ahead with that decision, it would take at least a couple of years to come up with a detailed plan to unwind the program and several more years to phase it out.
That's little comfort to major refineries and other participants that often must make capital expenditures years in advance. They are concerned that the thousands of credits that they have stockpiled at a cost of millions of dollars could essentially be wiped out and that in addition they would have to spend millions more to install pollution control equipment to meet new regulations.
"The whole premise of Reclaim when it was launched 22 years ago was to give participating facilities flexibility to invest in certain cleanup technologies or buy credits on the open market," Carroll said. "Now, many of the companies that chose to buy credits could find themselves being doubly penalized."
At least one major local business group has joined the call to preserve Reclaim: the Los Angeles County Business Federation, or BizFed.
Prev Next