Branching Out
Live-tree firm sprouts elsewhere after billionaire buys in
Monday, December 2, 2013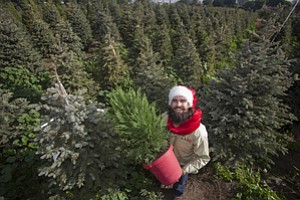 To address the issue of price and get some use out of trees pickier customers might not consider pretty enough to showcase in their living rooms, Martin began offering "misfit" trees this season at a lower cost. A misfit tree standing between 6 and 7 feet tall, for example, would cost $75 plus a $55 delivery fee.
Within days of his appearance on "Shark Tank," Martin said he got hundreds of emails from people who wanted him to expand the business. But he was determined to grow carefully.
He did end up making a deal with Dean Raffaini, a firefighter in the Bay Area, to act as an authorized dealer. Raffaini will start small this holiday season, delivering only about 100 trees.
"Dean was really adamant about getting involved. He flew down to talk to me and was really gung ho about doing it," Martin said. "But we wanted to grow slowly at first to test the market."
His cautious approach to expansion mirrors the efforts he's made in his home market, which covers the Southern California coast, from San Diego to the Pacific Palisades and east to Pasadena.
Martin said that while he eventually plans to open in major metropolitan areas nationwide, his immediate goal is to make sure the business works in Southern California.
"Our plan is to continue to incubate in Southern California," he said. "If you can't make money here, it's probably not something you want to grow elsewhere."
Prev Next