Spilling Over
Oil company says Hermosa using Gulf leak to fight claim
Monday, May 10, 2010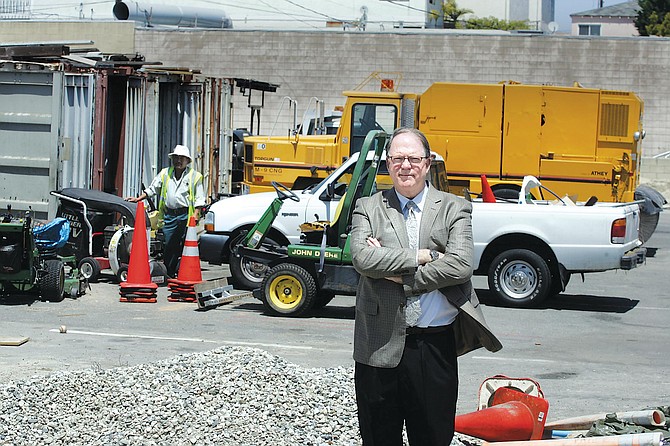 The immense oil spill in the Gulf of Mexico is roiling a long-running dispute between a local oil company and the city of Hermosa Beach.
Macpherson Oil Co. of Santa Monica is seeking $700 million in damages from the city's 1998 decision to terminate a lease that would have allowed Macpherson to drill in a city maintenance yard. Now, with a possible jury trial looming, the company is claiming that the city and drilling opponents are exploiting the oil spill.
"The city and the opponents are grandstanding about the situation in the Gulf of Mexico," said Macpherson Oil Chief Executive Don Macpherson in an interview last week. "They are using it to politicize this and to try to link that tragedy to oil projects onshore here in California. There's absolutely no connection between them."
Macpherson Oil had proposed upgrading an existing well and drilling up to 30 more wells on the maintenance yard, just a few blocks from the shore. Some of the wells would have been slant-drilled to go underneath the seabed, but there would have been no offshore rigs.
Macpherson is especially critical of an April 30 state hearing convened in the wake of the Gulf of Mexico spill to highlight potential dangers of drilling for oil along the California coastline, calling it "pure political theater that had nothing to do with our situation."
The hearing, held in Hermosa Beach, focused on the Macpherson lease dispute as well as a proposal from Houston-based Plains Exploration and Production Co. to expand its drilling operations in the Baldwin Hills. Another proposal from Denver-based Venoco Inc. to drill for oil in Carpinteria also came under attack. Hermosa Beach Mayor Michael DiVirgilio testified, while Macpherson said he was not even invited.
Hermosa Beach officials denied exploiting the Gulf of Mexico spill but contend it highlights the inherent danger of drilling for oil and lends considerable support to the city's decision to terminate Macpherson's lease.
"This is proof positive that there are catastrophic consequences that a community can face if it's near oil drilling operations," said DiVirgilio. "Despite the best assurances of safety, accidents will happen."
Indeed, the Gulf of Mexico blowout and resulting oil slick have resulted in a public backlash against drilling that could make it more difficult for Macpherson to win its case and recover the money sought from Hermosa Beach.
On April 30, Gov. Arnold Schwarzenegger reversed course and came out against a separate Plains Exploration drilling proposal off the Santa Barbara coast that he had previously supported. A few days later, a bill was introduced in Congress backed by the California delegation that would convert a moratorium on new drilling along the Pacific Coast into a permanent ban.
For reprint and licensing requests for this article, CLICK HERE.
Prev Next