ADVERTISE WITH US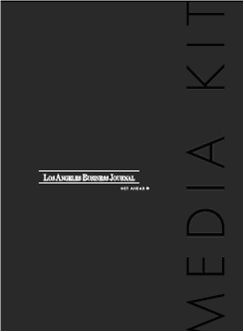 Weekly Circulation: 22,000
Weekly Readership: 98,500
54% of our readers are millionaires
77% of our readers hold topmanagement positions
Over 70,000 unique monthly visitors; the majority from Southern California
For more information contact Maria Santizo: msantizo@socalbusinessjournals.com or click the Media Kit icon.
Click here to download our cover wrap spec sheet.

EVENT SPONSORSHIP
BUSINESS MARKETPLACE
Our Business Marketplace section is the perfect place to advertise office space, residential real estate, businesses for sale, internet/technology services, employment/recruitment of top or middle managers, business products, request for proposals/legal services or DBA's.
Please contact Rosz Murray: (323) 549-5225 ext. 215 or rmurray@socalbusinessjournals.com.

DISPLAY AND ONLINE ADVERTISING
Download the LABJ 2015 Editorial Calendar (pdf)

Download: the LABJ 2014 Schedule of Events (pdf)



Please contact the Account Manager responsible for your industry using the table below:


ADVERTISING ACCOUNT MANAGERS Phone: 323-549-5225
Name
Email
Ext.
Advertising Categories

Eric Brunelli

218

Associate Publisher - Contact for general advertising inquiries.

Christian Calson

252

Advertising Account Manager

Darrin Sennott

220

Associate Advertising Account Manager, National Advertising Account Manager: Banking—Banks, Saving & Loans

Ellen Mazen

240

National Advertising Account Manager

Eva Juse

222

Advertising Account Manager: Banking—Banks, Savings & Loans; Finance—Assets Managers, Credit Unions, Money Managers; Healthcare—Healthcare Companies & Clinics, Health Insurance, Hospitals

Helya Askari

210

Advertising Account Manager

Jennifer Hakim

213

Events Manager

Jessica Hakim

248

Events Coordinator

Jim Slater

209

Advertising Account Manager: Gas, Petroleum; Green, Solar Power, Environmental; Manufacturing; Nonprofit Organizations; Government—Defense, Political Advertising; Ports & International Trade; Seminars & Trade Shows; Technology & Telecommunication; Transportation; Economic Development Centers

Kollene McGinley

264

Advertising Account Manager: Advertising, Marketing, & PR; Auto; Aviation; Commercial Real Estate—Architects/Interior Design, Brokerage Firms, Building Services, Construction Companies, Constructions/Sub Companies, Developers, Engineering, Executive Suites, Landscapers, Property Managers; Human Resources—Employment, Search Firms (Perm/Temp), Staffing; Radio, TV, Pubs; Digital—eNews Alerts, LA Tech Journal, Run of Site

Maria Santizo

216

Advertising Coordinator

Michelle Lima

219

Advertising Account Manager

Monica Mulcahy

201

Advertising Account Manager

Rosz Murray

215

Advertising Account Manager: People on the Move; Business Marketplace; Investment Properties; Special Projects
---
Want to talk to us?
For advertising and editorial, call (323) 549-5225
For questions about your subscription, call (818) 487-2055
Visit us
5700 Wilshire Boulevard, Suite 170
Los Angeles, CA 90036 USA.
Fax: 323-549-5255