Gaming Companies Move Forward With Efforts to Improve Employee Diversity
Monday, January 10, 2022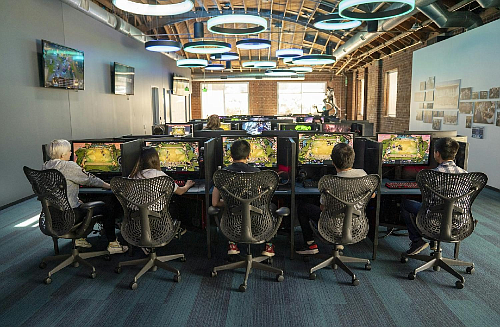 More than four years after the #MeToo movement cast an ominous spotlight on the state of sexual harassment in workplaces, the tech industry continues to be hit with complaints about its homogenous culture.
 
Employees and executives who identify as women, persons of color or members of the LGBTQ community talk of underrepresentation and even mistreatment.  
It's not a problem limited to the gaming and esports industries, though. The global tech industry continues to be hobbled with statistics and perceptions it's a predominantly white and male field.

"One of the things that makes the tech sector unique is its incredible scalability, which has led to the incredibly rapid rise of these enormously powerful and valuable companies," said Michael Karanicolas, executive director for the UCLA Institute for Technology, Law & Policy. "One consequence of that, and I think this is common across the sector, is a lack of institutional maturity, compared to traditional companies that have attained a similar level of size and reach."
 
Activision Blizzard Inc. and Riot Games Inc. were two names in the local gaming industry involved in diversity and inclusion debates, and that received complaints stemming from long-gestating grievances from underrepresented groups in the tech community.
 
Late last month, Sawtelle-based Riot Games agreed to pay $100 million to settle a 2018 class-action discrimination suit filed by current and former women employees and contractors. The complaint stemmed from allegations of sexual harassment by male colleagues and gender-based discrimination by coworkers of all backgrounds, including in the form of being passed over for merit-based promotions.

At Activision Blizzard, hundreds of employees first walked off the job in July to protest what they called the "frat boy" culture of the Santa Monica-based company. This was the first of three walkouts over investigations from independent organizations and the Securities and Exchange Commission looking into discrimination and sexual harassment complaints against the company. Shareholders later filed a class-action lawsuit, and employees demanded Chief Executive Bobby Kotick's resignation.

"Activision Blizzard is strongly committed to a more diverse, more equitable and more welcoming workplace," said Daniel Alegre, Activision Blizzard's president and chief operating officer. "We already have taken significant steps towards this goal and will continue to invest time and resources to ensure we become the most inclusive workplace."

Troubleshooting the problem
Gaming is far from the only area in the technology industry that has faced discrimination issues in the last year, though.
In the electric vehicle startup sector, Irvine-based Rivian Automotive Inc. was hit with a gender discrimination complaint in November by a former vice president who said she was excluded from meetings that were relevant to her job, and her remarks about production targets and product prices went unnoticed until a male colleague brought them up. A hearing is set for April.

Tesla Inc. was ordered in August to pay $1 million in a racial discrimination lawsuit filed by a factory worker at its Northern California assembly plant, and then lost a suit from a Black elevator operator in October, which resulted in another order to pay $137 million.
 
Amazon.com Inc. also lost a lawsuit last year brought forward by five women in different offices, some in Southern California, who claimed they were harassed and discriminated against by white supervisors.
 
"The extent to which this kind of pressure is ultimately effective remains to be seen," Karanicolas said. "There have been some victories, and other areas where employee pressure has been less successful, but it's one of the most interesting forces at play with regards to our collective desire for tech companies to be more responsible and accountable."

Riot Games declined to comment in time for publication, instead referring to their annual diversity and inclusion progress report from August. It determined 29% of its executive team are women and 22% identified as underrepresented minorities. The company called the numbers an increase over its last report but did not cite how much of an increase.

"There is much work to be done not just at Riot Games, but across the industry," Angela Roseboro, Riot Games chief diversity officer, wrote in the report. "It is our collective responsibility to make our workplaces inclusive and safe not just for a handful of people, but for all of us."

The Riot Games report also noted a dip in women as new hires compared to the previous year and identified a need to increase the number of persons of color among its workforce.

"The path we are on is not an easy one, but it is a worthwhile one, which is why I humbly share this report that reflects the work we have done and fulfills the promise we made to be as transparent as possible," Roseboro added.

New hiring practices
Activision Blizzard's Alegre said his company has taken steps since the summer's employee turmoil to further promote diversity in hiring, including a pledge to increase the number of women and nonbinary employees by 50% within five years, eventually making up at least a third of its global staff. The company claims to have made a $250 million investment to boost diversity in talent recruiting.

In the following weeks and months, Activision Blizzard employees took steps to pressure it to change its culture. By last month, some employees were setting the stage for a companywide vote to join the Communication Workers of America union.
Beginning this month, Activision Blizzard will introduce a new hiring panel in a bid to recruit and interview people from more diverse backgrounds than those the company has hired in the past. Its staff is less than a quarter women or nonbinary, and its executive staff has even less diversity.

"It is core to our beliefs that diversity be reflected in our teams as well as the games we create so that we can deliver creative, immersive and authentic entertainment experiences," Alegre said.
 
But Activision Blizzard's goals will put it into the second half of the decade before its roughly 9,000-strong staff looks significantly more diverse than the makeup of the tech industry now.
 
And for the industry as a whole, UCLA's Karanicolas indicates more diversity and inclusion moves might be a way to lure the best talent in general and not merely to make a social statement.

"The massive consolidation of power and wealth that we've seen also has profound political implications, which the employees at these companies are not immune to," Karanicolas said. "Nobody wants to dedicate their labor to a company that's 'evil' or somehow making the world worse, which leads to a degree of bottom-up pressure for companies to do better if they want to hire and retain talented employees in a highly competitive market."
For reprint and licensing requests for this article, CLICK HERE.