Production Company AGBO Gets $400M to Expand Into Gaming, 'Interactive Experiences'
Friday, January 7, 2022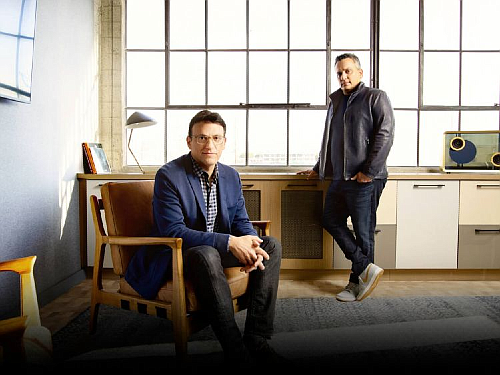 Video games, and film and television have been connected since the days of the original Super Mario Bros. film of the 1990s and the 25-year string of Pokémon cartoons and theatrical releases, to name just two. But as games have become more technologically advanced and sophisticated in terms of storytelling — and as film franchises have become increasingly bankable in an uncertain time for theaters — a new collaboration between two companies could rethink the way those two forms of media connect this decade.

Tokyo-based gaming company Nexon Co. Ltd. announced Jan. 5 that it has made a $400 million investment for a 38% stake in downtown-based production company AGBO Films, which was founded in 2017 by brothers Anthony and Joe Russo. The investment puts AGBO's valuation at $1.1 billion. The deal also includes a potential additional investment of $100 million from Nexon in the first half of 2022 if AGBO requests it.

The Russos have directed four Marvel Cinematic Universe films, including two from the "Captain America" franchise and 2019's "Avengers: Endgame," which made nearly $2.8 billion at the box office globally. At AGBO, they directed last year's "Cherry" with Tom Holland, which was released on Apple TV Plus. This year, Netflix Inc. will distribute another of their films, "The Grey Man" with Ryan Gosling and Chris Evans.

"As part of our mission to innovate and advance the next generation of storytelling, we acknowledge that storytelling, now more than ever, is not just a linear and passive viewing experience, but is an immersive and interactive experience as well," AGBO Chief Executive Jason Bergsman said. "And Nexon has expertise in building games and really innovating virtual worlds. It provides us with an access point to a partner that can potentially expand our vision through work that we can do together within that realm."

'A perfect marriage'
Nexon Chief Strategy Officer Nick van Dyk said he found the deal appealing no matter which of his "two hats" he was wearing: the film and TV hat or the strategy one. Formerly of Walt Disney Co. and then Activision Blizzard Inc., van Dyk saw a lot in an AGBO-Nexon partnership that had made Pixar Animation Studios and Lucasfilm so valuable to Disney — despite some steep purchase prices.

"There's a real alignment around the type of content and the creative experiences and touchpoints that are going to be used to move that storytelling format and the consumer engagement forward," van Dyk said. "So, it was a perfect marriage."
Nexon, which was founded in South Korea in 1994 but is now based in Japan, announced in 2020 that it would invest $1.5 billion in entertainment companies, citing a bump in the online gaming business during the initial onset of Covid-19 shutdowns around the world.
 
The pandemic may have dented AGBO's plans for theatrical releases, but more of their projects have landed on streaming services, including the series "Citadel" with Priyanka Chopra Jonas that is set to premiere on Amazon Prime Video later this year.
"The money that we're putting at work here is allowing that creative collaboration that's going to bear fruit in ways that I think are really going to be industry changing, and we're thrilled about that," van Dyk said.

But Nexon isn't really cutting a check for AGBO to run away with. Recalling his Disney days, van Dyk said the deal works because of the Russos' vision for their projects and the intellectual property that can be developed not only with Nexon's investment but created with their technological resources.

"You don't survive at Disney if you don't apply a lot of financial rigor to your investments," he said.

Creative vision
Bergsman also finds the deal a nice fit, particularly for the Russos and their vision for storytelling and engaging audiences in a crowded and disrupted entertainment market. That includes exploring more than traditional theatrical releases, but also paying more attention to the slew of streaming services that launch, as well as even a co-financed game.

"It furthers our efforts to invest in development of new (intellectual property), those that we create internally but also those that we partner with great folks like Nexon who hold very valuable IP to bring to screen," he said. "It also provides us with capital availability to finance or co-finance certain productions where we have the ability to do so."

And for Nexon and van Dyk, there's every indication AGBO and the Russos are the dedicated partners needed for quickly changing times.
"After we closed the deal, I went home and opened a bottle of wine and watched '(Avengers:) Endgame', and … I've told my kids before that this isn't a movie, this is an exercise in what happens when people have spent 10 years and $2 billion to create a fertile ground for something that's never been done before," he said.
For reprint and licensing requests for this article, CLICK HERE.