US Bancorp to Buy Union Bank in $8 Billion Deal
Tuesday, September 21, 2021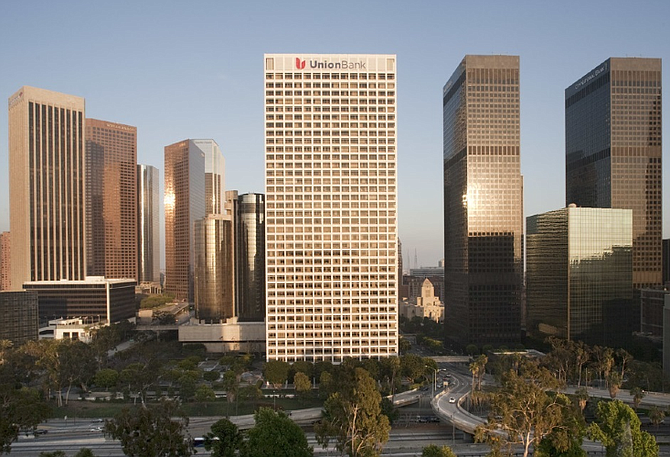 Minneapolis-based U.S. Bancorp has agreed to buy MUFG Union Bank's banking franchise from its Japanese parent for $8 billion in cash and stock, creating a behemoth operation in Los Angeles County.
While the corporate headquarters for MUFG Americas Holdings Corp. and MUFG Union Bank is in New York, Union Bank has always held a sizable and strong financial presence in Los Angeles.
In Los Angeles County, the combined organization brings to the table more than 170 branches, and billions in assets, deposits and commercial loans.
Of Union Bank's 291 branches across the Western United States, 60 are located the L.A. County area. The bank has $9.4 billion in deposits and $2.3 billion in loans locally, according to a spokesman for the bank.
U.S. Bank has 110 branches in Los Angeles County, and about 465 branches across California. It reported about $15.6 billion in deposits in the L.A.-Long Beach-Anaheim region, a spokesman for the bank said.
"With the acquisition, U.S. Bank will gain more than 1 million loyal consumer customers and about 190,000 small business customers on the West Coast in addition to approximately $58 billion in loans and $90 billion in deposits based on MUFG Union Bank's June 30, 2021, balance sheet," U.S. Bank said in a  statement. "The combination will improve U.S. Bank's deposit position in California from 10th to fifth and will significantly increase its customer base in California."
U.S. Bank's top consumer market leader in Southern California is Carl Jordan. Rudy Medina is the bank's top commercial regional executive. The headquarters for U.S. Bank is located in U.S. Bank Tower in downtown, located along West 5th Street.
The main office of MUFG Union Bank is based in San Francisco and is the U.S. banking arm of Japanese holding company Mitsubishi UFJ Financial Group.

Just last year, Union Bank's Greg Seibly was named president and head of regional banking.

Union Bank's network of branches are concentrated in California, Oregon, Texas, New York and Chicago.

Union bank has undergone a series of mergers and acquisitions over the last quarter-century. In 1996, Los Angeles-based Union Bank and San Francisco-based Bank of California merged to form Union Bank of California. In 2008, it was bought by Tokyo-based Mitsubishi UFJ Financial Group, which renamed the unit MUFG Union Bank.
For reprint and licensing requests for this article, CLICK HERE.