Eye-Catching $500 Million Tower Planned for Hollywood
Monday, September 20, 2021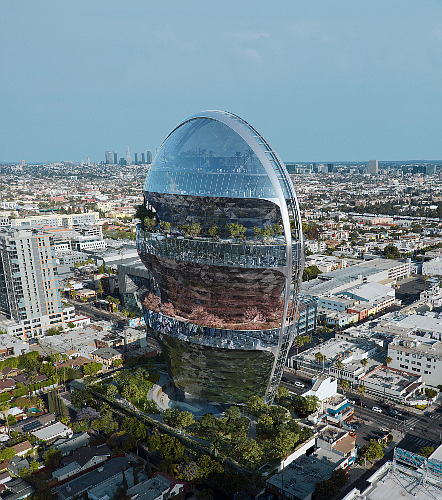 A new showstopper is planned for Sunset Boulevard in Hollywood.
MAD Architects, which is based in Beijing with an office in Santa Monica, is designing a $500 million creative office campus that would be punctuated by a glass-enclosed, egg-shaped tower.
 
The developer and the project share the same name, The Star.
The former is a family-owned limited liability company led by Chinese investor and real estate agent Maggie Gong Miracle. The company purchased the property at the corner of Sunset Boulevard and Gower Street in 2017.
 
Today, the site is occupied by office buildings and a parking lot. Under plans filed Sept. 16 with the city of Los Angeles, the property would give way to the 22-story tower with "sky gardens," a cable rail and rooftop restaurant, and event spaces featuring city views.
 
On lower levels, the tower would be surrounded by landscaped open space.
"Since Hollywood is the birthplace of the entertainment industry, The Star's prime location on Sunset Boulevard and its unique design present an unparalleled opportunity for a major company to make a bold statement and proudly plant their flag in the rightful home of entertainment in L.A.," Edgar Khalatian, a representative for the developer, said in a statement.

The city's approval process is expected to take years, with construction anticipated to start in 2023.

Ma Yansong of MAD Architects is leading the design.
 
The firm, which was founded in 2004, is also behind the Lucas Museum of Narrative Art. Under construction now in Exposition Park in South L.A., the museum will showcase the work of filmmaker George Lucas.
 
Internationally, MAD Architects designed the Harbin Opera House in China and the Absolute Towers in Canada.

"The Star is both a testament and addition to the city's iconic architecture," Yansong said in a statement. "Inspired by the curvilinear forms of the Griffith Observatory, Capitol Records Building, Hollywood Bowl and the Cinerama Dome, it asserts a new typology for the office of the future.
 
"Hollywood has long been a signature center for culture and creativity. The Star will be a new iconic landmark in Hollywood and continue to nurture the public's inspiration and creativity," Yansong added.
 
The Hollywood market has seen strong demand from media and entertainment companies such as Los Gatos-based Netflix Inc. A mini development boom catering to the growing office and production space needs of these companies has reshaped the neighborhood over the past 10 years.
For reprint and licensing requests for this article, CLICK HERE.