SpaceX's Historic Week Ushers in New Possibilities for Space Exploration
Originally published September 16, 2021 at 9:35 a.m., updated September 20, 2021 at 12:05 a.m.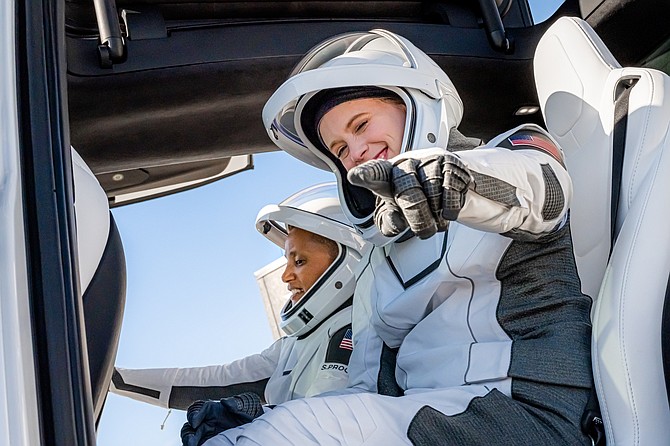 Space Exploration Technologies Corp.'s Hawthorne headquarters burst into thunderous applause. Hundreds of employees watched and cheered as one of their rockets — carrying four civilians — launched into the sky at hundreds of miles per hour.
Twelve minutes after the rocket lifted off at 5:02 p.m. Pacific time, Sept. 15, four amateur astronauts glided into Earth's orbit aboard a SpaceX Crew Dragon spacecraft.
With the mission, dubbed Inspiration4, SpaceX notched a company milestone and recorded a new piece of spaceflight history. It became the first organization, public or private, to successfully send an all-civilian team into space.
NASA's only involvement in the mission was to provide the launch pad at Kennedy Space Center in Cape Canaveral, Fla., setting a precedent for private industry to lead the future of human spaceflight as the government loosens its grip on exploration of the cosmos.
And for SpaceX, Inspiration4 proves that the company is making headway on its mission of opening space travel to all, said Rich Leshner, vice president of the consulting practice at Alexandria, Va.-based BryceTech.
"Putting people like tourists into orbit on a commercial mission is a key building block," said Leshner. "It signals that they're committed to doing the things that are key to the core founding mission of the company."
All in all, it was a big week for SpaceX — and not just because of Inspiration4.
The other launch
Along with making strides in human spaceflight, SpaceX strengthened its offerings for its Earthbound customers by expanding its Starlink satellite constellation.
The company completed its first Starlink launch from the West Coast, deploying 51 satellites into low Earth orbit on Sept. 13.
Its Falcon 9 rocket took off from Space Launch Complex 4E at Vandenberg Space Force Base near Lompoc at 8:55 p.m., and the satellites were deployed about 15 minutes later. The launch adds to the company's constellation of Starlink satellites, which now number more than 1,700 in orbit.
The rocket's first and second stages separated around two minutes and 30 seconds after liftoff, and the first stage landed on SpaceX's "Of Course I Still Love You" autonomous drone ship. The landing was the company's 90th recovery of a first-stage booster.
Starlink already provides internet connectivity to more than 90,000 customers, but SpaceX, according to Mashable, faces a backlog of more than 600,000 orders. To meet demand, the company aims to increase its Starlink constellation to more than 4,000 satellites by 2024.
The Starlink constellation could cost SpaceX up to $30 billion to finish. But the company estimates it could generate massive returns, bringing in as much as $30 billion annually once completed. That's more than 10 times SpaceX's revenue from its launch services business.
Millions from NASA
SpaceX also strengthened its ties with NASA last week by adding to its long list of high-
dollar contracts, including a $152.5 million deal to launch weather satellites into orbit.
Under the contract announced Sept. 10, SpaceX will deploy weather satellites on its Falcon Heavy rocket as part of NASA's Geostationary Operational Environmental Satellite-U mission. The launch is scheduled from Launch Complex 39A at Kennedy Space Center in Cape Canaveral, Fla., in April 2024.
The award went to SpaceX after Centennial, Colo.-based United Launch Alliance withdrew from the contract because it no longer had the vehicles available to support the launch, Space News reported.
The mission will map lightning activity in real time and provide images and measurements of weather, oceans and environment on Earth.
And on Sept. 14, the company scored an additional $9.4 million from NASA to develop moon landing systems for NASA's Artemis program.
The award is a part of a $146 million contract that includes four other companies: Jeff Bezos' Kent, Wash.-based Blue Origin; Huntsville, Ala.-based Dynetics Inc.; Bethesda, Md.-based Lockheed Martin Corp.; and Falls Church, Va.-based Northrop Grumman Corp.
Under the terms of the contract, which was awarded under the agency's Next Space
Technologies for Exploration Partnerships program, the companies will develop moon lander design concepts to "enable a steady pace of crewed trips to the lunar surface," NASA said in its announcement.
The award is separate from the $2.9 billion contract NASA issued to SpaceX in April to develop its human lander with the goal of taking two astronauts to the surface of the moon. That contract is on hold until at least Nov. 1 as NASA works through a lawsuit filed by Blue Origin claiming the award was unfairly handed to SpaceX.
Inspirational team
And, on top of those developments, SpaceX sent four civilians into space last week. If all goes according to plan, billionaire and tech entrepreneur Jared Isaacman, physician's assistant Haley Arceneaux, geoscientist Sian Proctor and Lockheed Martin engineer Chris Sembroski will have returned to Earth on Sept. 19.
The team was scheduled to take a three-day journey 357 miles above Earth, then land on SpaceX's barge in the Atlantic Ocean.
To prepare for the mission, crew members spent six months training for the physical strain of launch, reentry, ocean splashdown and a potential "in-flight abort scenario" on a SpaceX-designed centrifuge. In orbit, the crew planned to conduct health research on spaceflight's impact on the human body.
"I'm just a regular person," Arceneaux, a physician assistant at St. Jude Children's Research Hospital, said in an interview posted to the Inspiration4 Twitter account the day of the launch. "I am so lucky that I got a phone call asking if I wanted to go to space."
Isaacman purchased the flight for an undisclosed sum as part of an effort to raise $200 million for St. Jude's.
Isaacman, founder of Allentown, Pa.-based payment processing platform Shift4 Payments, donated $100 million to the hospital, and individual donors have given nearly $31 million. He hand-picked Arceneaux to join the crew.
Sembroski was chosen out of a contest pool of 72,000 that had donated to St. Jude, and Proctor was picked from among 200 people who competed to raise funds for the hospital.
SpaceX isn't the only company working to commercialize space travel. It is competing with Richard Branson's Virgin Galactic and Blue Origin, both of which sent their founders to space on missions lasting less than an hour each over the summer.
Though the Inspiration4 mission proves the possibility of all-civilian space travel and opens the market for commercial human spaceflight, Leshner said not every mission will look the same. He said he expects to see different lengths of flight and destinations in space.
"I think there is a market for it, and it is achievable," he said. "I think we're going to start seeing that diversity manifests itself ... as the market shakes out exactly what services to offer."
For reprint and licensing requests for this article, CLICK HERE.