SpaceX Sets All-Civilian Mission for Sept. 15
Tuesday, September 7, 2021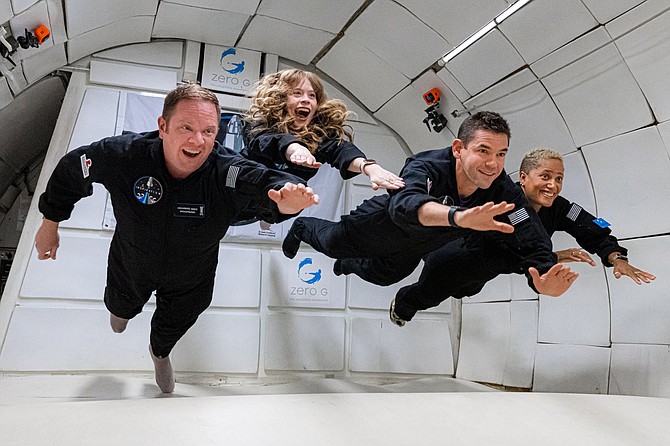 Space Exploration Technologies Corp. has scheduled a launch date for its first private, all-civilian mission. 
If successful, the mission, dubbed Inspiration4, will blast off from the Kennedy Space Center's Pad 39A in Cape Canaveral, Fla., on Sept. 15 and make as history as the first human spaceflight to orbit Earth with only private citizens on board.
Inspiration4 will serve as a proof of concept for future SpaceX civilian launches and has the potential to further the company's goal of opening human space travel to all.
On this front, Hawthorne-based SpaceX is competing
 with Richard Branson's Virgin Galactic and Jeff Bezos' Blue Origin.

The Inspiration4 crew will consist of billionaire and tech entrepreneur Jared Isaacman, physician's assistant Haley Arceneaux, geoscientist Sian Proctor and Lockheed Martin engineer Chris Sembroski.

They will orbit Earth aboard SpaceX's Crew Dragon spacecraft deployed by the company's Falcon 9 rocket.


Isaacman, founder of Allentown, Pa.-based payment processing platform Shift4 Payments, purchased the flight as part of an effort to raise $200 million for St. Jude Children's Research Hospital.
The four-person crew has spent the past six months training for the mission, which was first announced in February.
"I have never seen a more innovative & impressive organization than (SpaceX)," Isaacman tweeted on Sept. 2. "Six months from idea to fully analyzed and flight-ready hardware! They are making science fiction a reality each day and (Inspiration4) is proud to be a very small part in the history they are making."
Netflix Inc. and Time Studios will chronicle the three-day mission in an upcoming multipart documentary titled "Countdown: Inspiration4 Mission to Space." Netflix released the first two episodes of the series on Sept. 6 and will release two more on Sept. 13. A feature-length film detailing the mission itself is slated for release later this month.
For reprint and licensing requests for this article, CLICK HERE.