Hudson Pacific Buys Star Waggons, Zio Studio Services for $222 Million
Monday, September 6, 2021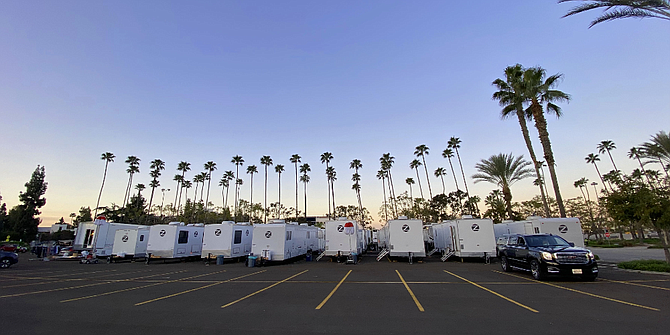 Brentwood-based Hudson Pacific Properties Inc. has acquired two transportation and logistics service companies for a combined $222 million.
The two companies acquired were Sylmar-based Star Waggons and Zio Studio Services.

The two companies, which have a combined fleet of more than 1,100 transportation assets, including luxury trailers and specialized vehicles, will become subsidiaries of Hudson Pacific.
 
"Bringing Star Waggons and Zio Studio Services together under the same umbrella with our Sunset Studios business enables us to capture a greater share of production services revenue at our facilities as well as other studios and on location," Jeff Stotland, head of global studios for Hudson Pacific, said in a statement.
 
"A broader offering of high-quality production services both streamlines content creation for and deepens our relationships with existing Sunset Studios clientele while providing access to new customers as well. These acquisitions perfectly align with our global studios strategy to accelerate growth, increase profitability and ultimately expand our role within the content production ecosystem — all while delivering excellent returns for our investors," he added.

Last year Blackstone Group Inc. purchased a 49% stake in Hudson Pacific's Hollywood portfolio consisting of Sunset Gower Studios, Sunset Bronson Studios and Sunset Las Palmas Studios. The companies have since announced plans to expand the portfolio.
 
Star Waggons was founded in the 1970s by actor Lyle Waggoner. The company has a fleet of makeup, wardrobe, production and other types of trailers.
 
It has more than 650 trailers and operates in L.A.; Albuquerque, N.M.; Atlanta; and Vancouver.
 
Company President Jason Waggoner will continue to lead the business. Beau Waggoner will serve as an adviser.

"I am thrilled to know that as we enter this next chapter of growth as part of the Hudson Pacific family of companies, we have a partner whose culture and way of doing business aligns with that vision and strategy," Jason Waggoner said in a statement.
 
Zio Studio Services said it serves more than 70% of major studio productions in Southern California and has roughly 750 transportation and equipment assets. It also operates in Atlanta.

"Hudson Pacific's vision to bring Star Waggons and Zio Studios Services together alongside its Sunset Studios platform will be a huge win for the entertainment industry at large, our team members and our clients," Louis Dargenzio, president of Zio Studio Services, said in a statement. "With Hudson Pacific's resources, production expertise and ambitious plans to expand Sunset Studios, we have incredibly exciting opportunities for growth ahead of us."
 
Dargenzio will continue to lead Zio.


For reprint and licensing requests for this article, CLICK HERE.