Developer Blatteis & Schnur Bets Big on Mixed-Use Space in High-Street Areas
Monday, October 18, 2021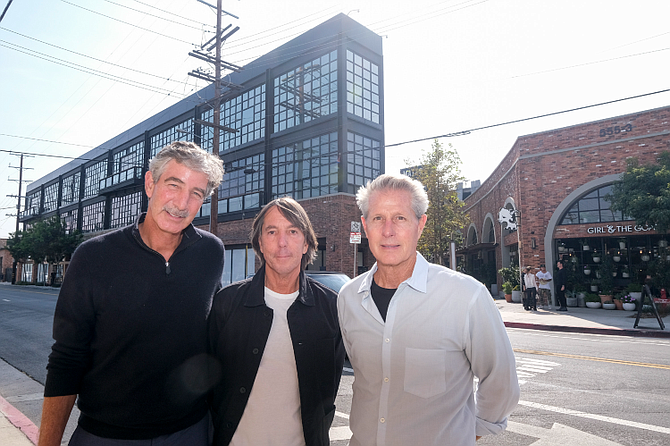 Sawtelle-based real estate firm Blatteis & Schnur Inc. has a long history, dating back almost 100 years to co-founder Samuel Blatteis, who started the company as Blatteis Realty Co.

Today, the company is run by his son, Dan Blatteis, with partners Robert Schnur and Marc Guth. Blatteis and Schnur formed the current iteration of the company in 1999, and Guth joined in 2001.

As the company has grown, it has evolved from a brokerage to a developer. And while it still offers some brokerage services, the business is now 80% development.

It has developed roughly 600,000 square feet of commercial properties since its founding, mainly high-street retail. It owns 500,000 square feet of property and has purchased more than 50 properties nationwide.

"We want to buy jewels in a jewel city," Schnur said of the group's move to buying and developing projects in Los Angeles.

The company follows the same principle in each of its projects: "You buy the best corners of the city you can. We think long term and are conservatively leveraged or have no leverage," Blatteis said.

Some of Blatteis & Schnur's biggest projects to date include At Mateo in the Arts District downtown as well as a $500 million project in the works in San Francisco's iconic Union Square.
It also has a number of properties in areas such as Santa Monica and Venice, betting big on upscale retail zones.


No buyer's remorse
Investing in high-end retail corridors is paying off.

"Since the start of 2021 and the shift in the presidential election and the rollout of the vaccine, everything has been fantastic in the high-street retail markets," Greg Briest, a vice president at Jones Lang LaSalle Inc., said.

Briest said vacancies in posh retail districts such as the Golden Triangle, Abbot Kinney and Melrose Place have filled up, and "opportunities have become limited."

High-street retail — stores located on main streets — has fared better than some other sectors, especially professional services and fitness, which are taking longer to bounce back from the pandemic's impact on business and retail foot traffic.

Blatteis said the company had to sell off some of its properties to finance projects early on, but it now views itself as a long-term holder.

"We've regretted everything we've ever sold," he confessed.
Case in point, the building which houses the Apple Store on Santa Monica's Third Street Promenade.
 
Blatteis & Schnur purchased the property for $26 million before investing $250,000 to tear down the existing building. Apple Inc. then leased the site to build. A year later and just four months ahead of the Apple Store's opening, Blatteis & Schnur sold the site for $58 million. But one year later, it sold again, this time for $100 million.

"If you own great real estate, try to hold it forever," Blatteis said.

While Blatteis & Schnur may be known these days for its developments, the company and its principals got their start in leasing.

Blatteis described his father, Samuel, as a "pioneer of percent leasing during the Great Depression." The concept of percent leasing involves a retailer paying a certain percentage of its sales as rent rather than as a fixed amount. It's a leasing method still being used by many retailers.

After his father died, Dan Blatteis went to work for Phillip Lyon, Gordon & Co., leasing the Beverly Center. He later joined Citicorp, managing its Western regional retail portfolio and research and development spec space.

Among his notable coups was bringing Barneys New York to Beverly Hills.
Schnur's claim to fame, meanwhile, is his work with Cheesecake Factory Inc. Since 1991, he has guided the restaurant chain's international growth.

He continues to work with the company but said development is his passion.

Guth assists with the Cheesecake Factory leasing efforts and previously worked at what was then Westfield, now Unibail-Rodamco-Westfield on its leasing agreements.
 
Blatteis said the company decided to focus on owning properties instead to be able to drive the development work at the sites.

"I realized it was better to be a principal than a middleman," he said.

For the most part, the company's employees handle leasing while the three principals work on the larger projects.


High-street priorities
Blatteis & Schnur has been centering much of its high-street retail efforts on downtown's Arts District.

Its most ambitious project there is At Mateo, a mixed-use retail and office space.
 
The site was purchased in 2014, broke ground in 2015 and was completed in 2019, Guth said. The 200,000-square-foot center is 98% occupied and counts Spotify Technology as its largest tenant at 165,000 square feet. The USC Roski School of Art and Design also leases space at the center.

For Schnur, the project was also a realization of his urban sensibilities.

"Being a New Yorker means I'm an urbanist. I always look for something walkable, something urban," which helped drive the project, he said. "We wanted to build something that looks like it was born in the neighborhood."

Blatteis said the company was "ahead of the market" with the project.

Nick Griffin, executive director at the Downtown Center Business Improvement District, agreed.
"It's one of those kind of catalytic projects in that, when they first developed it and opened it, it really felt like a turning point-type of project on a couple levels in terms of the quality of the design and the ambition of the use — really spoke to the strong potential of the neighborhood," Griffin said.
 
"The fact that a company like Blatteis & Schnur — who are very high-end retail developers — were confident about that district spoke to the opportunity there," he said, "and in some ways a number of the projects that have followed, in some ways, it paved the way for those. It sort of proved the appeal."

Blatteis called the Arts District a "top priority" for the company going forward.

"Coming out of the pandemic, there's a huge opportunity here to do more," he said.
Beyond the Arts District, the company's local holdings include real estate on Beverly Drive, Abbot Kinney Boulevard and Third Street Promenade.

Looking up
The retail developer sees more mixed-use projects on its horizon.
 
Take, for example, a property the company is developing on the promenade. Blatteis & Schnur purchased the site initially envisioning two floors of retail and one floor of office space but have since reconfigured it to two floors of office space and one of retail.

"We saw the need for creative office space on the promenade," Schnur said.
Guth expects construction on the project to begin early next year and take roughly a year to complete.

Outside of Los Angeles, cities of interest for the company include Boston and Charleston, S.C., as well as San Francisco, where they're working on that $500 million Union Square project.
 
And it's not just office space but also residential projects, which have lately caught the company's eye.

"Residential is probably the safest (asset type) right now," Schnur said. "Retail is the riskiest. Creative office is somewhere in between."

Long term, the company has two other as-yet-unspecified goals: to work on a $1 billion development and to build a high-rise building.
 
"I will not rest until we build a high-rise," Schnur said.
For reprint and licensing requests for this article, CLICK HERE.