Advanced Air Seeks to Be One-Stop Shop for Private Aviation
Monday, October 18, 2021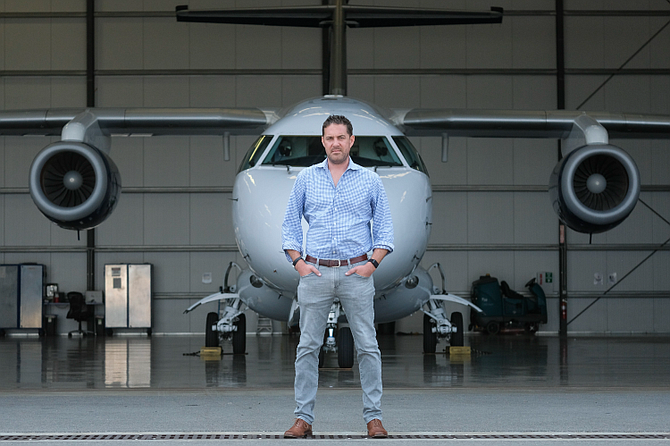 In the world of private aviation, there are charter flight operators, a growing cadre of scheduled flight services, crew and maintenance suppliers, and operators of fuel depots at general aviation airports.

And then there is Hawthorne-based Advanced Air, one of the few private aviation companies that has rolled up all these operations under one company banner, often putting its planes to multiple uses.

Advanced Air maintains and operates a fleet of 25 planes that customers can charter; it also uses those planes for scheduled service flights on which customers can buy seats.
 
The company also operates flights for Hawthorne-based Surf Air Mobility Corp. and Taos Air, owned by Taos, N.M.-based Taos Ski Valley Inc.
"Our goal is to be as diversified as possible and use our assets in every way we can to generate revenue," said Levi Stockton, Advanced Air's founder and president. "An idle airplane doesn't make money."

On top of all this, Advanced Air owns and operates Jet Center Los Angeles, the largest fuel depot, private terminal and aircraft maintenance facility at Hawthorne Municipal Airport. Such operations are known in the industry as fixed-base operators, or FBOs.

The operation has grown in prominence in recent years just as one of the airport's main competitors, Santa Monica Airport, has begun winding down in advance of its 2028 closure. There's also the Hawthorne airport's proximity to one of the Los Angeles area's newest activity centers: the Inglewood sports and entertainment district and its centerpiece, SoFi Stadium.

For one aviation analyst, Advanced Air's ability to mesh all these operations makes it unique in the private aviation landscape.

"Advanced Air is innovating off a basis of charter and FBO businesses," said Dean Donovan, managing director of Seattle-based DiamondStream Partners, an aviation investment specialty firm. "What's so innovative about their model is the connection with the commercial aviation system through Taos and Surf Air: selling by the seat on scheduled flights. Other companies have blended these two models, but only a handful, if that, on the scale that Advanced Air is doing."  

Fewer delays
Advanced Air was founded in 2005 by Stockton, a licensed pilot who flew aircraft for corporate real estate clients. The company launched with one King Aircraft plane and a master lease at Hawthorne Municipal Airport.

"Back then, the Hawthorne airport was really run down with no jet fuel supplier and run-down hangars," Stockton said. "This was before high-profile players like SpaceX and Surf Air came in." Elon Musk's Space Exploration Technologies Corp. is headquartered next to the airport.

Advanced Air began sprucing up the airport, building 200,000 square feet of hangar space and an aviation jet fuel depot. The company also began supplying crews to people who were chartering private aircraft, a service that expanded after the 2008 global financial crisis.

By 2015, Advanced Air was supplying flight crews for Surf Air, a player in the booming business of scheduled flights, in which customers buy individual seats on private aircraft, much like an airline.

That prompted Advanced Air to look at launching a scheduled flight service of its own. The company obtained the necessary authorization from the U.S. Transportation Department about five years ago and then sought contracts from DOT to operate flights to certain small airports under the agency's Essential Air Service program.
The company won a DOT contract to serve Grant County Airport in southwestern New Mexico, taking over in 2019 from San Francisco-based Boutique Air Inc.

According to airport director Rebekah Wenger, since Advanced Air took over, there have been fewer delays in scheduled flights and overall service levels have improved.
"Levi (Stockton) is a pilot; he flies legs of the service occasionally, checking on how things are going," Wenger said. "That improves the service level tremendously."
Covid impact.

Advanced Air was in the midst of its expansion drive when the Covid-19 pandemic hit. Stockton said that in the initial lockdown, the phones stopped ringing, and the customer count fell sharply.

But by the summer of 2020, demand picked up on two fronts: people around rural or secondary airports where the major commercial carriers had cut service and people eager to escape the Covid threat by avoiding commercial airlines and airports, preferring to seek out wilderness resort destinations such as Jackson Hole, Wyo.
Stockton added that as professional sports teams resumed their schedules, demand for charter flights to transport the teams picked up.

That need meant more flights for one longtime Advanced Air customer: Brad Berman, president and chief operations officer for Phoenix-based American Sports Entertainment Co., a major sports facility operator.

Berman said he has been flying with Advanced Air since the company was founded. He welcomed the new hangars that Advanced Air/Jet Center Los Angeles built at the Hawthorne airport.

"When I first started flying into that airport, the aircraft had to park outside," Berman said. "Now they always put my plane in the hangar, so it's not exposed to the elements. That, in turn, cuts down on the amount of maintenance."
Berman said his most memorable — and harrowing — experience flying into the Hawthorne airport was in the winter of 2016.

"I landed at night and parked the plane there for two days as I visited our facilities in the L.A. area," he said. "But the next morning, I received a call from the Jet Center folks saying that when they inspected the aircraft, they found my prop(ellor) had been damaged by a bullet. It was surprising to all of us. But they fixed it right up and the plane was good to go when I needed it two days later. That was a really close call."

SoFi Stadium surge
The full opening of SoFi Stadium this summer brought in more business for Advanced Air at Hawthorne Airport, which is less than 2 miles south of the Inglewood sports and entertainment complex.
 
"We see about a 30% increase in flights on game days," Stockton said. "We're planning right now to handle the 2022 Super Bowl."
He said that, historically, Super Bowls draw about 900 private planes, bringing VIPs and other executives. Berman expects a similar number for next year's Super Bowl. With all the construction going on at Los Angeles International Airport, there's little extra capacity for these private planes, so they will be headed for the region's private aviation airfields, such as Hawthorne airport.

Outside Los Angeles County, Advanced Air is preparing to launch flights to Mammoth Yosemite Airport — the closest airport to the Mammoth Mountain Ski Area resort — and Palm Springs/Thermal Airport in Thermal in the southeastern corner of the Coachella Valley.

On the charter side, Stockton said the business is increasing in part because the traditionally large gap between the prices of a commercial airline ticket and a charter ticket has narrowed since the pandemic hit.

"Many charter companies are now operating at maximum capacity and are now looking to expand their aircraft fleets," he said. "We're fortunate in that we completed our fleet expansion just before the pandemic hit."

Given Advanced Air's multiple business lines, investment analyst Donovan said, there is some risk that the company falls short on performance on one or more of these lines. But he said that risk is minimal because there's one key business segment that Advanced Air has chosen to avoid: bookings and reservations.

"This is clever on Advanced Air's part: They are letting others do the marketing, customer scheduling and ticket management," he said. "Their philosophy is, 'We're just going to fly the aircraft,' which simplifies things tremendously."
Correction
In the Oct. 11 issue, a story headlined "Cedars-Sinai Prescribes Flexibility in Offerings," misstated the percentage of Cedars-
Sinai employees who have been vaccinated; 99% of Cedars-Sinai employees have been vaccinated.
For reprint and licensing requests for this article, CLICK HERE.