LPC West Plans Creative Office Site in Culver City
Monday, October 11, 2021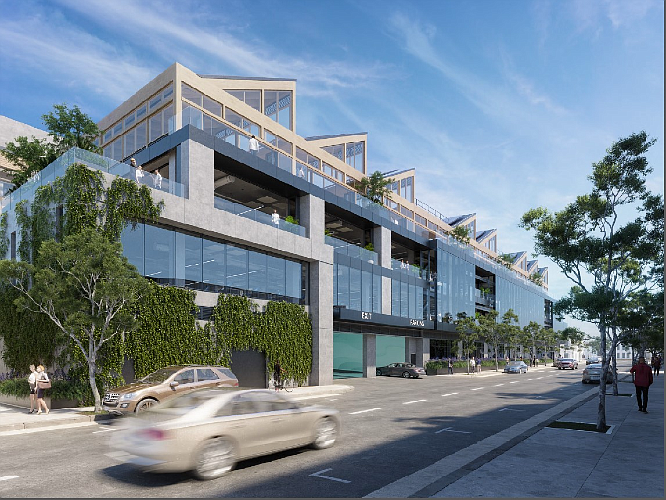 LPC West, the West Coast arm of developer Lincoln Property Co., has plans to develop a creative office project in Culver City.

The project is planned for 3817, 3835 and 3855 Watseka Ave., a 1.1-acre lot being used for parking, storage and a pair of two-story office buildings. The site was acquired by LPC West two years ago for $32.6 million.

The Gensler-designed project would create a four-story, 150,000-square-foot office building atop a three-level subterranean parking garage with 546 spaces.
"It's a really creative design," said Rob Kane, an executive vice president at LPC West. "It's a building we think responds really well in a post-Covid office environment. It is lower-rise, (has) heavily amenitized indoor/outdoor spaces, lots of natural light, and we're really excited about the design."

Kane said he expects the project will be enticing to tenants coming out of the pandemic due to the indoor/outdoor balconies and patios. He said the development's high ceilings and natural light will create a feeling of openness, particularly on the top floor, which will showcase a glass-paneled sawtooth roof.
He said the structure will incorporate a good deal of timber, giving it a "classic, creative and industrial feel."

Although a general contractor had not yet been hired for the project, which is still in the entitlement stage, Kane said he expects construction will begin next year and be completed in 2024.

He added that he expects the property to be leased to a single user.
"It's designed to be a headquarters-quality building for a high-quality company," he said, adding that it could, however, be delivered as a multitenant building if market conditions dictated it.
 
He also highlighted the location of the project, Culver City, describing it as a desirable site due to the number of large companies based there, its centrality, housing and access to public transit.

"We're really excited about all of the activity in Culver City," Kane said. "In our view, it's one of the most dynamic submarkets in all of L.A. and becoming a central hub for media and technology companies."
Companies including Apple Inc. and Amazon.com Inc. have established a large presence in the area.

"I believe Culver is in the early stages of its evolution, and the companies that call Culver City home are going to continue to grow," he said. "We want to be able to provide them with high-quality options for that growth. There are really few remaining lots for high-quality development, and this is one that's really attractive. This is in the heart of Culver City."

The Watseka Avenue project isn't LPC West's first in the area. The company also includes in its portfolio 8777 Washington Blvd., a 125,000-square-foot office, retail and restaurant space leased to Apple, which is expected to employ more than 1,000 people in the area by next year.

Clarion Partners is a joint venture partner in the Gensler-designed development.
The partnership has another development in the works nearby, in which they plan to rehab about 150,000 square feet of office space as well as add a roughly 300,000-square-foot project. 
For reprint and licensing requests for this article, CLICK HERE.